What is the Typical Cost of a Deck or a Patio Build?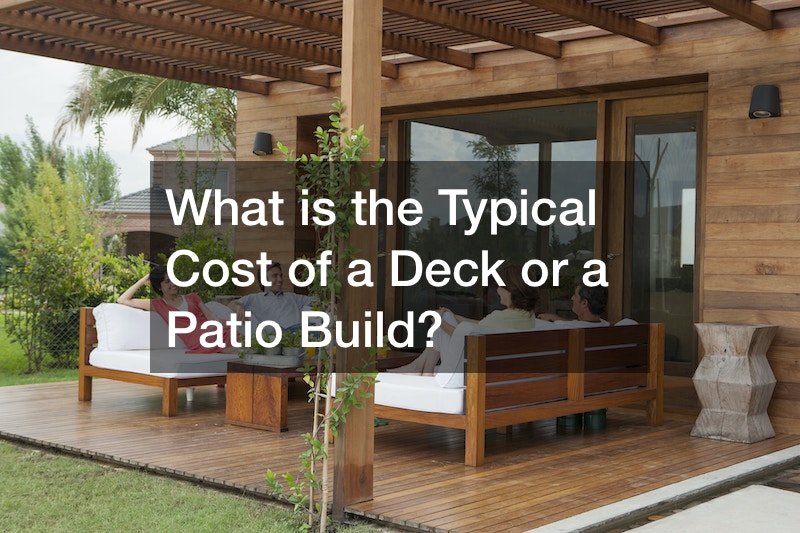 Remodeling or adding a structure to your home are projects you should never take for granted because of their incredible advantages. Patios and decks are among the most outstanding exterior structures you can build on your residential property to enhance its appearance and boost its value. Nevertheless, such a project is not as simple as many homeowners think. When dealing with such projects, one of the confusing matters is getting the precise cost of a deck or a patio build. Many have fallen into the hands of fraudsters simply because they do not understand how to calculate such expenses. Luckily, there has been intense research on the cost of a deck or a patio build to help you approximate how much you are likely to spend and set a detailed budget. This is precisely what the information in this article will facilitate. The details will be separated into different sections to guide you better.
The Labor Costs for a Deck or a Patio
These two outdoor structures have varying financial demands, and their labor costs are no exception. A few homeowners decide to take on the project as DIY, especially those with experience in constructing such units. Nevertheless, it is absolutely advisable to set aside enough money to pay a professional builder when adding a deck or patio to your home. The amount you can expect to pay in the labor cost of a deck or a patio build largely depends on the structure's size and the materials you choose.
Most builders charge per square foot. If you choose to build a deck, you can expect it to cost you between $15 and $32 per square foot. However, you must understand different builders will have varying charges depending on a few factors. This may include experience, professionalism, and the project's timeline. On the flip side, reports have indicated that you can pay between $4 and $12 per square foot, translating to approximately $40 to $80 per hour.
This labor cost of a deck or a patio build also depends on any additions you want to make to the structure, like patio door installation. Patios cost less than decks, but that does not mean they are less valuable. Both structures have immense benefits to your property.
Buying the Necessary Building Materials
The cost of a deck or a patio build also depends on the materials you choose. There are different materials for whatever structure you want to install on your residential property, and their prices vary, too. Moreover, the materials' prices and expense also depend on their size and the distance you transport them. The market is flooded with all the materials you may need for home improvement purposes, but you must ensure you know what you want and the image you would love to see in your compound.
The materials you decide to use in your home play a critical role in how the entire project turns out. Nevertheless, you must be ready for all the expenses of getting the materials you require. One of the critical determinations when considering the materials for the cost of a deck or a patio build is how large the structure will be. The good news is that you can build these structures using different materials. Flagstone, concrete, gravel, and brick pavers are among the most common necessities you need to create a fantastic patio. The most precise and accurate estimates for such materials are $11 to $30, $4 to $8, $1.50 to $4, and $0.50 to $10 per square foot, respectively.
On the flip side, the common materials you can use for a deck and their prices include;
Bamboo
Bamboo is a locally available material for deck construction. Sourcing your bamboo materials from reputable providers provides a renewable option for your deck. Nevertheless, you must understand that the inexpensiveness of purchasing bamboo materials may excite you, but the critical installation procedure may increase the labor costs. Many homeowners who choose bamboo for their deck incur between $3 and $10 per square foot.
Mahogany
Mahogany may cost between $8 and $11 per square foot, but you must understand you cannot use this material in your frameworks or posts. That means you should understand the cost of a deck or a patio build before acquiring this material. You will have to check out other materials for these structural elements. This increases the cost variability in the deck-building project.
Cedar
This material is easy to source, considering it grows in most parts of the United States. The easy sourcing translates into lower installation costs, where you can expect a per-foot charge of between $3 and $7 for your deck boards. However, this price is too high compared to pressure-treated material expenses.
Aluminum
Aluminum is a metal that many homeowners have been using in building their decks. It is on the list of the total cost of a deck or a patio build, but that does not mean it is the ideal material. Most aluminum decks cost between $15 and $20 per foot. Such expenses make this option more expensive than its wooden cousins.
Tigerwood
Tigerwood is another material you can use to build a residential deck and still enjoy its incredible benefits. Nevertheless, you must understand this is a typical hardwood readily available mainly in Africa and Brazil. Its strength and toughness are among the factors leading to high labor costs when dealing with tigerwood. The average price of a tigerwood decking board is $7. However, you should be prepared to pay up to $15 for such products, mainly if you import these boards from miles away.
Redwood
The main concern with using redwood for your deck building purposes is the differences in its pricing. There are high-end and low-end redwood decking boards, and their prices vary significantly. You can purchase either of the two, but you should know that the price for the lowest grade redwood board can be as low as $5 per square foot, while that of the highest grade can be as high as $30 per square foot. Your budget will help you make an informed decision if you use redwood materials for your deck. Therefore, you must know where your budget ranges to ensure you get redwood boards that do not break your bank. High-grade boards may be durable, but if you cannot afford their prices and installation costs, you can always go for the low or mid-grade boards.
Concrete
Concrete decks and patios have gained popularity over the last few years. Nonetheless, the costs you incur on installing a concrete structure in your home largely depend on the materials you need, but asphalt is one of the most common. Fortunately, the market is flooded with various companies offering a reliable asphalt paving service to ensure you get the best results. Getting a qualified asphalt contractor is not as complex as some years ago, thanks to modern technology and the internet. Ensure you work with a professional offering extra services, like asphalt repair and maintenance. Many contractors dealing in residential paving services can guarantee professional and quality workmanship. It's best to work only with professionals when it comes to residential paving services.
Cost from Additional Features
You may know about the cost of a deck or a patio build, but what if you decide to include additional features in the structure? The inclusions you make significantly contribute to the cost of a deck or a patio build. It is essential to learn about some of the critical additions you may opt to include on your patio or deck and how much you can expect to spend on such a project. This is the information you will be gathering from this section.
Stairs
You can have an elevated patio or deck in your home, but you must be ready for the expense of installing a set of stairs on such a structure for easy access. An average staircase can have between eight and sixteen steps. Depending on the elevation, material type, and stair size, you can anticipate spending between $25 and $50 per stair. The elevation level depends on the steepness of your home's landscape.
A Fireplace
Want to chill outside during winter and still feel warm? A fireplace or a firepit would be an incredible addition to your patio or deck. Nevertheless, you must be financially prepared for the expenses associated with such an essential addition. The approximate fireplace installation cost is about $300. Nonetheless, depending on a few factors, you can pay anywhere between $100 and $2,000. They include the fireplace or firepit's size and style, especially for an above-ground deck fireplace.
Safety Railings
These additions are particularly common when creating a raised deck because they enhance the users' safety. There is a wide range of railings, but their prices differ depending on their styles and types. Nevertheless, you can expect to spend $35 and $210 per linear foot of barriers.
Lighting and Flooring Patterns
You may need to use your patio or deck during the dark hours, for instance, when having a night party. That means you will need proper lighting. Depending on your chosen fixtures, lighting expenses can be between $8 and $30. The flooring cost depends on the pattern. You can enhance your deck's or patio's wow factor by embracing a hexagonal or herringbone-style floor, but you must be ready to increase your budget by at least 20%.
The Benefits of Home Patios and Decks
Enhanced Property Value
Many homeowners consider installing decks and patios because they increase their residential properties' resale value. This is essential if you plan on selling your home some time down the road. Research shows that you can enjoy a 72% and a 68.8% return on investment from a wooden and a composite deck, respectively. Such a figure can play a material role in increasing your property's resale value. Increasing the property's asking price is one of the critical considerations if you project selling it at a later date.
Enhanced Property Aesthetics
The beauty of a home starts from the appearance of its outdoors. Well-built patios and decks make the property appear more appealing to you, your family, visitors, and potential buyers. This is the primary reason you should consider working with professionals who understand how to get creative when building such structures. Moreover, these experts will guide you better on the expected expenses, including the typical cost of a deck or a patio build.
Increased Space
It can sometimes be challenging to be cooked in your house because you do not have an exterior place to relax, especially during the hot season. Building a patio or a deck allows you to enjoy some time outside with spectacular views. However, you should note that a deck allows more views than a patio, considering most decks are elevated or constructed in a raised position. The views and sceneries you enjoy entirely depend on your residential area. You also get a space to enjoy incredible and fascinating sights from your surroundings.
Better Customization options
Building a patio or a deck from scratch is unlike buying a property with an already built one. You get all the freedom to rhyme it with your style in terms of your preferable materials, design, and size. You may enjoy the same with a readymade patio or deck, but you will spend more on dismantling the existing structure and create one that suits your needs and taste. Customization also entails all the other structures you can add to match your patio or deck with how you would love it to be.
Patios and decks have gained popularity in many homes over the last few decades. However, not all residential property owners understand where to begin, especially regarding the information on price approximates for such essential structures. The many sources available on this subject do not cover it entirely, making this piece one of the most detailed sources you can find in the modern world about the estimated costs of building a deck or a patio. Ensure you read the text keenly to get clear guidance on how much you can set aside for such vital residential structures. Additionally, you will learn about their benefits to give you a clearer glimpse of why you should consider building them in your home.