Top Tips: Best Digital Marketing for Real Estate Agents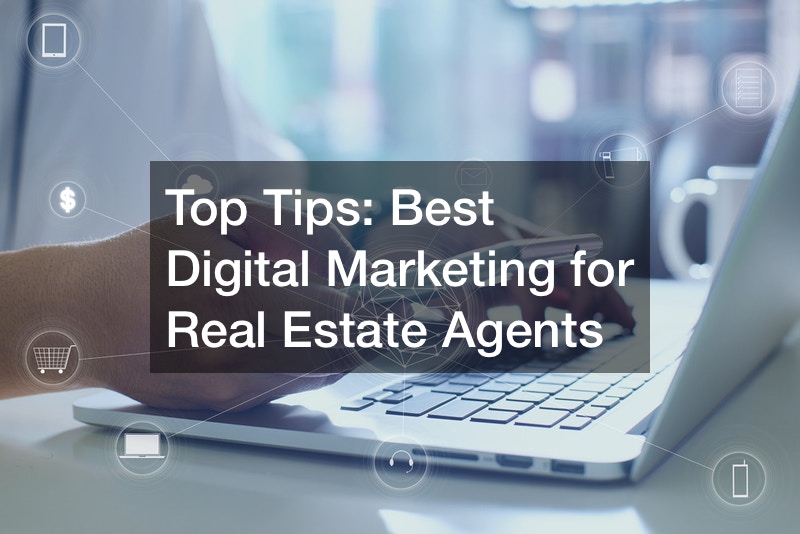 Capturing the attention of today's homebuyer no longer begins with curb appeal. Instead, it's all about online presence. According to a report by the National Association of Realtors (NAR), 93% of all home buyers use the internet when looking for their home. At the same time, fewer and fewer of those in younger generations are using traditional methods of research to find their home. For example, the NAR report found that just 56% of Gen X visited an Open House.
To remain competitive, today's realtors have to put a lot more time and effort into digital marketing. It's the best way for clients to get to know them — and their homes.
If you want to build your business and your listings, follow these top tips for the best digital marketing for real estate agents.
Start with a website — and make sure it has the right features.
According to the NAR survey, 92 percent of firms have property listings, making it the most common feature.
Commercial firms typically showed property listings (85 percent), agent and staff photos (73 percent), and customer reviews and testimonials (32 percent) on their websites.
Residential firms typically showed property listings (95 percent), agent and staff photos (80 percent), and mortgage/financial calculators (58 percent).
Not only should the site have the right information, but it should also have the right functionality. Invest in your web design so that it is user-friendly, easy to navigate, and naturally drives users to do what you want them to do with clear calls to action.
Be mobile ready.
Today's home buyers regularly use mobile devices to search for properties online. They want to see home listings, photos, and information about the buying process. They also want to be able to contact the agent via the mobile device while searching for homes.
Be social.
According to the NAR, 77% of today's realtors use social media. And according to a report by The Close, in 2020, 44% of agents said that they brought on a new client because of social media. In fact, social media was only second to referrals for obtaining new listings last year. The same report found that when asked how they will improve their business this year, more than 80% said: "improve social media presence."
Remember, however, that a strong social media presence doesn't just mean being there. You need to spend time on your account, cultivating engagement, sharing posts, and finding and following people in your area.
You should be sharing relevant content on your account at least once a week and no more than once per day. This content can be in your feed or as a story or now, as a TikTok or Instagram Reel. This content could include your video home tours, photos of new listings, announcements about a new home close, or insights into the local area.
From there, the content you share should provide insight into you as a realtor. Potential home buyers will want to get to know you and social media is the best way to do that. Don't be afraid to Go Live on Instagram and show a little of expertise and personality. Share photos of you and the rest of your real estate team at work or during off moments.
Finally, share any content you are creating for your website, be it home decor tips, tips for closing a home, moving tips, etc.
Spend money on social.
When you are sharing posts on social about your properties and your business, the goal is to get a wide audience to see it. Unfortunately, to get the biggest audience possible you're going to need to put some money behind it. That's why, when you are sharing on Facebook or Instagram, you should try boosting the post so that it is seen by your target audience — be it gender, age group, location, or interest. On Facebook, this is essential since posts left to their own devices will not get much traction in your news feed without money behind it.
Be ready to share.
It is important that users can see and share your listings, so make sure your site is set up with social sharing. This will just help your properties get in front of a wider audience.
Optimize for SEO.
Real estate searches have grown 20 percent year-over-year since 2008, according to Google. That number is only going to continue to grow, and you want to be sure you'll be at the top of those results. That means you need to invest in search engine optimization (SEO).
You will want to ensure your website is rich with the right keywords. Since real estate is all about location, begin your effort with keywords like "new homes in Austin" and "condos for sale in Austin" (or whatever location you happen to be in).
Use content marketing.
Another way to build your search and convert people to your website is to invest in a content marketing strategy. That means sharing content on your website that is relevant to what home buyers might be interested in and searching for online.
For example, try a piece on home décor, on installing sliding patio doors, or even share a furniture financing calculator. When users search it online and find your story, it will bring them to your website, and they will leave more familiar with your brand. They may even check out your listings.
Take a good photo or two.
When potential home buyers are looking online for their new or next home, the photography could make the difference between selling a house quickly or not at all. While great photography will draw in buyers, bad photography will easily diminish interest in even the best of properties. Hire a professional photographer (preferably with experience photographing homes and architecture), to shoot all of your houses. Then share those photos on your website and social media.
At the same time, you'll want a good headshot so that potential clients can connect a face and a name. Don't however, be afraid to move away from the traditional — and sometimes boring — headshot. Instead, use it as an opportunity to show some personality and even some local flavor. Take a headshot with local features in the background. That could mean a famous building, a popular restaurant, or even a hint at the nature that dominates the local environment.
Rely on the power of video.
Forty-five percent of people watch more than an hour of video on Facebook or YouTube per week. Take advantage of this audience — and add another layer of convenience — by adding video tours of your property to your site. These tours are a great way to give a comprehensive, accurate preview of the property for potential buyers.
When making these tours, go through each room, show the surrounding area and try to add a sense of scale for the viewers. Don't be afraid to add some narration and talk about the area where the home is, as well as the important stats about the house, such as when it was built.
If you are not sure how to create these videos effectively, spend some time watching how other realtors in and out of your area do it. These videos can help you figure out what works and what doesn't.
Use the power of Pinterest.
There are over 400 million monthly active users on Pinterest. Take advantage of this audience by creating a Pinterest board for your properties that highlights property photos, features, and amenities, and the area where the home is.
Create a newsletter.
If you want to build strong client relationships, try investing in an email newsletter program. Collect emails from your website, local outreach, or other networking events. Then send subscribers the information they're looking for, including notices about upcoming open houses, new houses on the market, news about seminars you're offering in the area, and the custom content you can create on a variety of topics from how to stage your home to how to deal with hard money lenders.
Optimize your Google My Business.
Google My Business is a free local marketing tool that allows business owners and marketers to manage how their business is displayed on Google Search and Google Maps. It is a listing on Google that shows your name, address, contact information, website link, and hours of operation.
Millions of brands across the world are using Google My Business to stand out from competitors and attract more customers — real estate agents should do the same. Optimizing your Google My Business increases your visibility on the web, helps you share your information with potential customers, helps you reply to questions from clients in real-time, provides an outlet for client reviews, which could boost your appeal to potential new clients and it's a free form of Google advertising.
Look for nontraditional ways to market yourself.
Marketing yourself in the real estate business is a never-ending task and it can't only be done online and through traditional methods. Instead, look for opportunities to put yourself forward in your community. For example, try writing a local column in a newspaper or getting involved in your local chamber.
Ask for reviews.
When potential new clients are looking for realtors online, they are going to check out your reviews. That means you want to stack positive reviews in your favor. When you successfully work with a client — which should be every engagement — seek out the right moment to ask them to leave a review on your website. That moment could be right after closing, it could be a few weeks after the client moves in and once they have time to settle. You will know best when the opportunity is right.
Use LinkedIn.
LinkedIn is an often-forgotten social media channel that real estate agents can take advantage of. The site has 467 million users with 106 million active monthly users.
For realtors, LinkedIn is a great place to gather and network with colleagues. More importantly, it's a great place for you to connect with professionals in your area who will eventually turn into home buyers. Finally, having a presence on LinkedIn is a good way for your agency to establish its professional reputation in an online format. It can also gain your business's exposure to investors, business owners, banks, and clients in your area.
Get on Zillow.
Zillow may not be every realtor's favorite tool — but it is nearly every home buyer. In 2018, there were more than 7 billion visits to the Zillow apps and websites. At the same time, there were more than 110 million properties list in the Zillow database. For realtors, these means have a presence on the site is a necessity.
The real estate agent-related features on Zillow are robust. Zillow also allows users to review real estate agents, so put on a smile and rack up that rating, as a solid star rating will greatly increase your leads.
Keep in touch with past clients.
When the closing is over and a house has been sold, don't lose touch with your client. Instead, invest in maintaining or even building that relationship. You never know when a client will come back to you when they need to see a commercial home property, when they want to buy a new home or when they might even be looking to sell a property.
Keeping in touch can happen in different ways in the digital world. Start a special e-newsletter program that periodically sends messages or content to past clients. It could be as simple as a holiday greeting or a monthly email sharing tips on a range of topics, for example how to navigate your homeowner association management or how to sell a home fast.
If e-newsletters aren't your thing, turn to social media. Look for your clients on Facebook and Instagram and start following them. In turn, they will hopefully follow you back, which will keep them up-to-date on everything you and your real estate agency have on offer.
Whatever content or messaging you decide to share to keep in touch with this audience, make sure it's relevant, otherwise they'll quickly lose interest and unsubscribe or block you.
So, there you have it! Our best digital marketing for real estate agents. What are your top tips?