Home Repairs to Use Your Stimulus Check For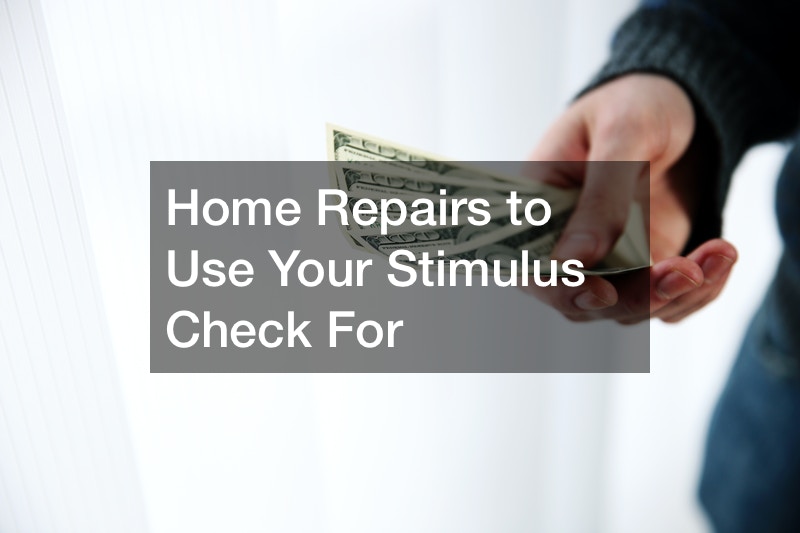 With the second round of stimulus checks going out, you may be thinking of using the money to help fund a few important home repairs. Investing in your home is generally a great option with long-term benefits, and getting a stimulus check can be a great way to jump-start your home improvement plans. If you have several smaller projects to tackle — or one larger one that you've been putting off for a while — this is the perfect time to start crossing things off of your to-do list.
It's not all easy though — now you have some choices to make regarding which projects to tackle first and which to potentially leave for a later date. Regardless of anything else, it's important to make the best choices you can for your home, family, and budget, and that means thinking about the pros and cons of certain projects before you commit to them.
From appliance upgrades to plumbing repairs, there are a variety of options when it comes to how you can use your stimulus check. It's important to weigh all of your options, so you can find the best use for your money. With that in mind, here are a few home repairs to use your stimulus check for.
Fix the Furnace
Issues with the furnace can be costly — but so can not getting them fixed. If the furnace ranks high on your list of home repairs to use your stimulus check for, it's probably the best place to start spending your money. If you're looking to fix furnace issues, now is a great time to start looking around for a company that can handle the work. Furnace issues can range from simple malfunctions with simple fixes, to full-on replacements, so it's important to be prepared for things to cost more than you might expect them to.
That said, this is a great first project to tackle financially because the average cost of repairing a furnace runs between one hundred thirty dollars and nearly five hundred dollars. Gas furnaces tend to run higher on average cost due to their complexity and can be over one thousand dollars to repair in some cases. Electric furnaces run much less with the average repair cost being around three hundred dollars.
Install a Water Purifier
If you're looking for smaller home repairs to use your stimulus check for, then installing a water purification system may be a good place to start. The cost of water purifier installation will vary widely depending on the type of system you want to have installed and to some degree on your area of the country. The national average is around two thousand dollars but can be as low as seventy-five dollars for small, faucet-mounted systems. The usual range is between five hundred dollars and two thousand dollars, with a maximum cost of nearly five thousand dollars.
Whole house water purification systems will generally be much higher in cost to install than simple, faucet-mounted water purifiers, so you'll have to weigh the pros and cons of each to find the best system for your home and your family.
Tackle Plumbing Issues
Residential plumbing repair can be costly, with the average largely depending on the type of repair needed. Plumbing services are fairly dynamic in that way and while there are some common price points you can look into, issues and pricing will largely vary depending on location.
If you decide to use your stimulus check to help fix issues with your plumbing, know that it may be more costly than you initially expect. A simple leak will generally be easy to fix if it's in an accessible area, but some plumbing system issues can easily run you thousands of dollars. That being said, if you're looking for the best home repairs to use your stimulus check for, plumbing is probably one of your best options.
Plumbing issues can cause a host of other problems if left untreated, from problems with drinkable water, fluctuations in water pressure or temperature, and in some cases, water damage to parts of the home resulting in moldering sheetrock and warped floorboards. It's generally best to have plumbing issues resolved by a professional as soon as you can to avoid the risk of larger issues down the line.
Change Out Your Refrigerator
If you're not in need of any major home repairs, then upgrading an appliance with your stimulus check might be a good way to go. Appliance upgrades can really help elevate the look and functionality of a room. A compact refrigerator will often help the kitchen feel bigger and increase counter space. The cost of a compact refrigerator varies widely from around three hundred dollars to well over two thousand dollars, so you'll have to shop around to make sure you find the best style and deal for your home and budget.
If you have an office or game room in the house, you may also be looking to add a small appliance. Mini-fridges cost, on average, around fifty dollars a year to run and can be a great addition to a frequently-used room. While they're best as a back-up since they cannot store much on their own, mini-fridges are a great small luxury item if you're in a space where you can splurge a little. You can search for local compact refrigerator sales to help you find the best price in your area.
Check Your Electrical
Electrical wiring is nothing to play with. If you suspect you may have an issue with the home's electrical, it's best to have it addressed as soon as possible. Electrical services can range in price from a few hundred to install switches, lights, and fans, to several thousand to rewire a house or to do major repairs. Do your research on what exactly you suspect you need before getting quotes and choosing a company to do the work, as your needs will greatly affect the price.
That said, if you're looking for the best home repairs to spend your stimulus check on, electrical safety is always a good investment. Most modern homes won't need a full rewiring in order to be considered safe to live in, so the cost of your electrical fixes shouldn't be too overwhelming for most budgets.
Install or Repair Your Air Conditioner
Installing a new air conditioning unit can really help make those hot days more bearable. Air conditioning is especially valuable in areas of the country that see temperature extremes during the summer months, but it's a good investment even in places with milder temperatures. If you already have an air conditioner, it might be a good idea to use your stimulus money to help keep the system in good shape. Even clogged vents or minor damage to internal components can become a big problem if left unchecked and necessitate the replacement of the entire unit.
Prices for basic install may vary even between air conditioning companies, so it's a good idea to call around for quotes before you commit to a company. The national average is around seven thousand dollars. Repair costs will vary widely depending on the type of repair needed — whether it's a simple cleaning and valve replacement, or something more major.
Keep Your Roof Intact
Roofing is one of the best investments you can make for the health and longevity of your home. Issues with roofing can lead to the risk of issues in many other parts of the home, not the least of which is the risk of water damage during heavy rainstorms. Loose tiles or shingles also risk damage to the underlayment and eventually to the structure of the home. Breaks in the integrity of the roofline can also provide entry points for squirrels, rats, bats, and other animals.
A good roofing inspection can cost up to three hundred dollars, not including certification or the cost of any needed repairs that may be uncovered. That said, this is probably one of the best home repairs to use your stimulus check for, all things considered. Keeping your roof in good shape will help you avoid a whole host of potential issues later on by keeping the inside of your home clean, dry, and pest-free.
If you have a lot of small jobs — such as switches that need to be installed, lights that need put up, etc. — which need to be done, and you're looking to get a lot out of your stimulus check, then hiring a good general contractor may be the best way to go. While it can take a fair amount of research to find a person or company you feel comfortable with, general contractors are skilled at handling a variety of small jobs and can be a great asset to any homeowner.
Prices for general contractors will vary depending on your location, the jobs you need to be done, and the contractor themselves. Some contractors do not charge hourly rates, others do. Most will charge between ten and twenty percent of the cost of an overall construction project.
Shore up Your Siding
Issues with siding can allow all kinds of trouble into your home. Not only is damaged siding unsightly, but breaks and missing pieces can quickly become entryways for rats, mice, squirrels, raccoons, and other small animals, not to mention insects. Look for evidence of chewing or biting on siding and around vents to help determine if anyone is living in your house rent-free.
Breaks and other issues can happen with any sort of siding your home may have, so it's best to be in the habit of checking it at least every spring to be sure it's still in good shape. Brick masonry services are also available for homes with brick siding or accents, though the cost may be a bit higher to address issues with the brick accents than with the more traditional siding. That said, fixing crumbling mortar work is not only a good idea in terms of aesthetics, it's also one in terms of safety.
If you're concerned you may already have uninvited house guests, then contacting your local wildlife control services is the best next step. Many offer humane relocation of animals who have wandered in where they're not supposed to be.
So there you have it — several options for home repairs to use your stimulus check for. Of course, these are all just suggestions. The most important thing is that you use your stimulus check in a way that suits you and tackle the projects that you want to tackle. You have to make the best choices you can for yourself, your home, for family, and your budget.
From electrical fixes to new appliances, the possibilities for the home improvement projects you could jump-start are endless. Be sure to do your research, thoroughly check out any companies you're considering working with, and weigh the pros and cons of tackling certain projects over others. This way, you'll be sure to get the most out of your second stimulus check.
This is a great opportunity to get a jump on your home improvement projects and maybe get after some of the repairs you've been needing to address for some time now. Investing in your home and safety is always a good idea, and many of these suggestions will help improve the longevity of your home as well by keeping it dry, clean, and free of pests such as rats, birds, squirrels, raccoons, and other small animals.
Whether you have one large project to tackle or are hoping to get to several smaller ones, this second stimulus check is the perfect way to start out strong with your home improvement goals.