How Much Remodeling Does a Prospective New Home Need?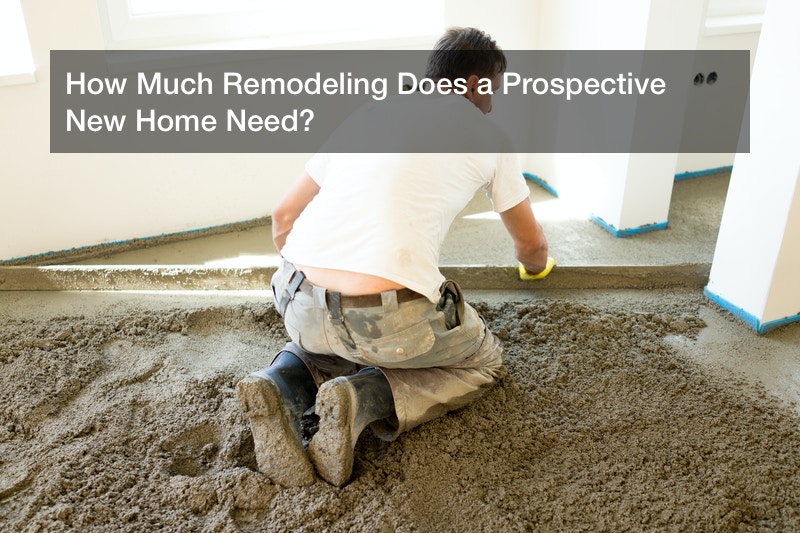 Some homes on the real estate market fall just short of being picture-perfect and move-in ready. Others, however, need a little TLC to bring up their cozy appeal and make them utterly livable and lovable. Is it any wonder that people spend $450 billion annually on home remodels across the board? While some of those people are remodeling their current residences, others are sprucing up properties that they've recently purchased. So how often should you remodel your home? Maybe sooner rather than later, although it's really a never-ending process for owners committed to tweaking their properties!
If you're thinking about buying a home, you'll definitely want to consider any upgrades you plan to make immediately and in the year after you've been handed the keys. That way, you can decide how best to budget to make your new house the dream location you've always wanted.
Discussing Driveways
Homes in residential neighborhoods frequently have driveways. The driveway could be made of any number of materials. For instance, you might fall in love with a property that has a driveway constructed of concrete or asphalt. So how often should you remodel your home driveway? The answer lies in the driveway itself.
In the case of driveways that have asphalt or cement slabs, you might notice a bit of cracking or unlevel surfaces. That's completely normal and not a reason to immediately walk the other way. Nonetheless, you'll need to consider whether you'll need to repair or replace the driveway once you move in.
Asphalt paving is one way to revitalize a flagging asphalt driveway. The cost for a typical asphalt paving job can run from the hundreds to tens of thousands depending on how extensive the damage. Generally speaking, paving specialists will provide you with a price based on the square footage of your asphalt driveway.
Have a concrete driveway with lots of cracks, craters, and weird raised areas? You might be able to rescue the concrete and your wallet by having a company inject a polyurethane or a mud-like slurry under the concrete. Wondering how often should you remodel your home driveway concrete slabs? If you live in a region that gets a lot of extreme climate changes, you may want to make upgrades every 10 or 15 years due to cracking.
What other driveway issues could you encounter as a first-time homeowner? Sometimes, driveways have been poorly laid and need to be resurfaced completely. For example, if the driveway looks like it's on its last legs, it probably is. Landscaping errors, such as planting huge trees next to driveways can also leave lasting marks because mature tree roots can cause upheaval in driveways. In that case, you'll want to contact a tree surgeon as well as a driveway paving specialist!
Knocking on the Door
How often should you remodel your home doors? As with everything, it depends. But it's kind of inevitable. Not to "knock" on exterior doors, but they may need to be replaced if your home hasn't had an upgrade in a very long time You might absolutely adore the dated door that's 100 years old, but over time, older doors don't always hold up. Doors made of wood are especially susceptible to rotting and warping, which means they don't fit properly anymore.
When you're walking through any prospective home with your realtor, make a point of checking all the doors that lead from the inside to the outside. Do they squeak? Seem to be hard to close? Have trouble latching? If you're particularly intrepid, you may want to even check the weatherstripping around the door frame to see if it's seen better days.
Though buying new doors might not be someone you thought you'd need to do after buying a home, the process isn't as unusual as you might assume. Tons of places, including big box home maintenance and home improvement retailers, sell pre-made doors.
One word to the wise: Buying a historic property or particularly unique piece of real estate could make it tougher to get a door that fits. Sometimes, older doors weren't constructed to fit a typical size. Under those circumstances, the answer to "How often should you remodel your home doors?" is: "When they stop preventing others from waltzing in!"
Oh, and remember that you're allowed to replace a door even if it's perfectly fine. Sometimes, the door is plain ugly to you. And if you aren't head over heels for it, you can always have someone put in another one that meshes better with your preferred style.
Bringing on the Basement
Ah, the basement space. Whether you're planning to turn it into a theatre for the family, a playroom for the kids, a spacious mudroom, or a home gym, you want it to be delightful instead of dank. Let's face it, though: Plenty of basements leave a lot to desire in terms of ambiance! That's why they're usually top of mind when contemplating how often should you remodel your home property's lower levels.
When you're checking out a basement, look first for signs of water damage, because that's a reason to remodel lickity-split. Water damage shows up as white spots on the floor, water stains on the walls and ceiling, or a funky smell. Lots of basements smell mildewy, and that's a sure sign of a moisture problem. Often, installing a top-notch dehumidifier will help solve a minor concern. Nevertheless, get your favorite handyman or maintenance guru to stop by to make sure you don't have a bigger water leak on your hand.
In addition to water concerns, underground basements may also attract pests. Look in the corners for cobwebs, spiders, and other insects. Millipedes and centipedes feel at home in damp, dark spots. And rodents love to hang out in basements that haven't been treated. This may be a good chance to call your local pest control service provider to ask about pricing. You might be able to solve a modest pest dilemma with a couple of visits.
Basement dry as a bone and without signs of critters? That's terrific news, but you're not out of the woods yet. Next, take a gander at the furnace and, if applicable, water heater. See if you can find out when each of them was made and put into place.
How often should you remodel your home HVAC equipment? Furnaces last around 10-15 years and water heaters tend to tap out at a decade. You'll absolutely need to know if you will have to shell out money to install a water heater soon or replace your furnace. Not sure how to figure out the era of your heating, water, and cooling units? Check out the serial number on each unit and try a Google search.
Of course, if the basement is clean as a whistle but just kind of dated, you might still want to remodel to bring it into the current century. Do a little math to determine how much you want to spend. Then, have at your project after you settle in!
Consider Curb Appeal
Many times, people talk about curb appeal when selling a house. Yet when you own a house, you want it to have a ton of curb appeal, too! It's wonderful to have pride in your residence and receive kudos from your neighbors. They'll probably ask you advice, like how often should you remodel your home and how you can keep plants coming up season after season.
Curb appeal doesn't have to cost a fortune, either. Even exterior home painting to add a different color and ambiance to your property can be as low as only a couple thousand dollars.
Another way to make your home stand out for all the right reasons is by taking time to do a little landscaping. You don't have to hire a professional landscaping team. Homeowners have changed the appearance of their residences dramatically by adding a few interesting details like fences, trees, shrubs, potted plants, hanging plants, mailboxes, and lamp posts.
If you're scratching your head trying to decide where to start with your curb appeal project or figuring out how often should you remodel your home exterior, take a trip to a home improvement supply store. Don't actually buy anything. Just take pictures of items you like and do research. Then, go back to your new home and look online to find out more about the things that attracted your attention. Make certain to find out how to take care of something that you plan to add, such as a water fountain or fish pond.
Often, homeowners jump into those kinds of curb appeal items without realizing the upkeep necessary. Even something as seemingly simple as a koi pond must be carefully maintained. Oh, and all those new, beautiful trees you want to plant? They'll eventually require trimming. Plus, stones and pavers weight a lot more than you probably expect. It's worth it to hire a helper to move them!
Dealing With HVAC and Ductwork
Your HVAC system is like the heart and lungs of your house. If it's ailing, you'll notice it immediately because of staleness in the air or temperature fluctuations. Therefore, pay attention to the heating and air conditioning of any home you are tempted to buy. How often should you remodel your home heating and air conditioning? Honestly, it depends on your comfort expectations.
For instance, is having central air conditioning important to you or your family? Not all homes can be easily retrofitted with the ductwork necessary to have a traditional central air system. However, ductless air conditioning could be a way to solve that issue so you don't have to revert to using window units that have to be removed and re-installed every year when the weather turns cold.
Another aspect of your HVAC to talk about when considering How often should you remodel your home furnace system is the state of any existing ductwork. If it's been around for a while, it might be coming apart in places, like at the joints. On the other hand, maybe it just needs a good cleaning. Typically, HVAC installers and service companies will offer duct cleaning for several hundred dollars. Usually, you only have to do it once every few years to get the great benefits.
Not certain you're ready to install air conditioning at all? A whole house fan will help remove warm air from the residence effectively. That way, you can simply turn on the whole house fan when you need to create some airflow. Just know that whole house fans work best in temperate zones that don't get crazy-hot during the summer months.
Going Gaga for Garages
You might not think much about the garage in the homes you tour but do pop in to give it the once-over. Garages are amazing spaces that can absolutely expand your storage areas. They're perfectly suited not just for storing cars but to keep your recreational equipment, tools, holiday decor, an extra fridge, and so much more! How often should you remodel your home garage? Your response should be based on what you plan to do with it.
To be able to make the most use of your garage space, check to see if the residential garage doors work well. They should have some kind of locking mechanism or at least seem safe. Note the garage floor, too. You may want to lay something better, particularly if you're planning on spending a lot of time in the garage tinkering away.
Thinking about turning your attached garage into something other than a storage unit? Talk to a contractor. You might be able to transform the space from a garage into a den, rec room, or spare bedroom with a bath. Who knows? A dry garage that already has insulation and electric hookups could add to your livable footprint.
Seeing About Security
We're all concerned about staying safe, which is why so many security products and services are on the market. Even if you don't want to go all-out, you can easily purchase an alarm system through a provider or even online. Alarm systems provide tremendous peace of mind, especially when you're not home. Many of them work through apps, meaning that as long as you have your phone, you can see what's happening at your hacienda.
Keeping up With Kitchens
Last, but not least, we get to the kitchen. People remodel their kitchens all the time and for a variety of reasons. In fact, kitchen remodeling is so popular that it's one of the top remodeling project types across the board.
How can you remodel a kitchen on a budget? Sometimes, adding updated hardware, painting cabinets, and buying new appliances can totally invigorate the kitchen space. And you won't have to spend too much.
Of course, if money's not too much of a hurdle, consider redoing the kitchen design layout, adding an island, bumping out walls, and moving plumbing around. Remember to consider the floor and lighting to add just the right amount of contemporary "oomph" to your finished product.
Looking forward to making a move to a fantastic home? Don't be turned off just because property needs some extra care. Even a bit of home remodeling can go a long way.