10 Trends in Home Decor for November 2022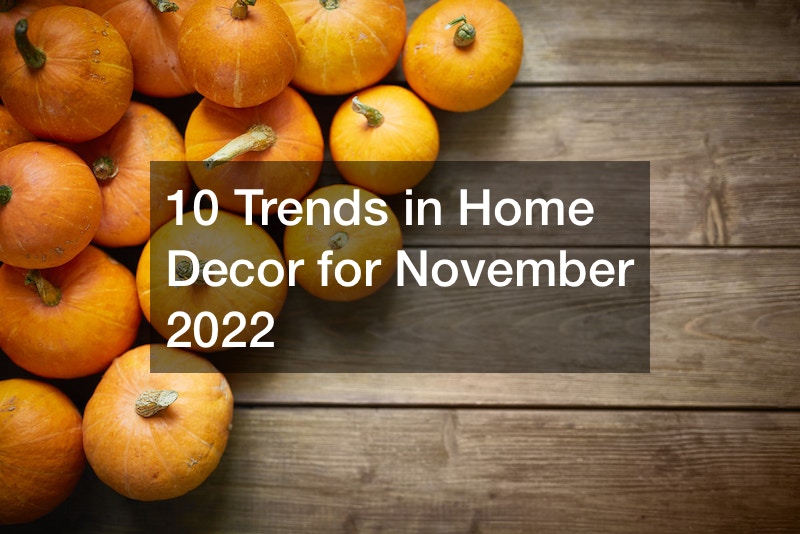 If you're thinking of giving your home a facelift and want to know what some of the top home decor for November are, you're in for a treat. There are some amazing trends that you can take advantage of and personalize to make fully your own. You may not even need to do a lot, and you can buy some of the new items you need quite cheaply if you shop around for vintage and thrifted pieces. Read on to see 10 trends in home decor for November and you can get to work improving your home.
1. Bold Colors
One of the trends you'll notice a lot in home decor for November is the use of bold colors in decor and beyond. From carpets to doors, you can use a bold color to bring any space to life. This will work especially well when used as an accent rather than as the main theme. This is because using bold colors as the main theme may feel like too much and overwhelm the senses. To get the right balance, pick a single item or area that you'd like to make stand out and add the bold coloring to it by either painting it or adding a single bold piece to it. This will give your home an amazing look and welcome November the right way.
2. Textures
Another trend in home decor for November you may have come across is the use of textures. These have a way of transforming otherwise plain and simple areas to three-dimensional spots that have an amazing look and feel. Think of chunky knits in the bedroom as bedding or on your seats as accents and throws. You can add texture practically anywhere you like if you want to do so. Even cabinet design can incorporate texture if you add textured wallpaper to its face. The knobs and other fittings you use can be decorated and artistic enough to add an additional texture to something that's otherwise usually plain.
As is the case with bold colors and designs, you don't want to add too much texture in one spot because it will conflict. Add one or two textures at most to each space around your house that you want to bring to life and this will be enough for you. You should do your best to make sure that the textures you pick don't conflict with each other. This is something you have a better chance of doing if you keep the textures that you add to a minimum. As you get better at working with textures, you can experiment with more until you get the ultimate balance.
3. Florals
When decorating, think of floral designs and colors. This is especially doable for soft furnishings, which are typically available in different colors and designs. For spaces like the living room, kitchen, bedroom, and others, you could use bouquets to add a floral touch to them. Doing this could make a big difference in terms of the color and freshness of the space. You'll realize that it doesn't take much to improve the way a given space in your home looks and feels. You should also choose a theme and stick to it, and this is one of the trends in home decor for November that you can be sure will add a light and airy note to your home if you do it right.
4. Natural Finishes
Many people are also starting to look towards natural finishes in and around their homes. This is a trend in home decor for November that you can use both inside and outside your home. For instance, you can add some natural and raw wood to your kitchen and living room as decor or functional pieces indoors. Outdoors, you can use natural stone for finishing your hardscape. This will give it a natural, yet well-maintained look that's sure to boost your curb appeal.
The best thing about a majority of natural finishes is that they can last for a long time. This is especially the case if you maintain them well and take proper care of them. Maintenance is usually not an extensive or involving process that you'll have a hard time keeping up with. With a few adjustments to your life, you can keep your natural finishes in tip-top condition for years and wow people who see them when you tell them their age.
5. Checkerboard Patterns
If you want to give your home a rich and sophisticated look fast and easily, you may want to make use of checkerboard patterns. These can be incorporated practically anywhere, from the floor to the walls and ceiling, and even on furniture and other fittings around the house. If you have a screened porch, for example, you could use a checkerboard pattern on the floor with tiles. This will effortlessly improve the way it looks and feels, making it a chic space that's easy to furnish and decorate. This is because you can keep everything else minimal and still have a beautiful space.
With checkerboard patterns, you need to know how to go about it so that you don't overdo it. You can also use different colors for the checkerboard design depending on the specific place you want to use it. Keep it as simple as you want or add some elements to make it chic and unique so that you have a beautiful and truly custom space. You can try this trend out on a small scale and with temporary finishes so that you don't spend a lot of time and money on something that you may not end up liking. If you do like it, plan for more long-lasting solutions including tiles and paint.
6. Candles and Lanterns
Yet another one of the home decor for November you may have come across is the use of candles and lanterns. These may be placed anywhere throughout the house as long as you make sure you're upholding safety practices. For example, never leave a lit candle unattended or have flammable items like paper and cloth lying around candles because this is a potential fire hazard. Candles may also be placed on top of gas fireplaces on holders and such so that the wax won't drip down and leave a mess.
As for lanterns, you have even more options as they're essentially dressed-up candles. This is because you can use them indoors and outdoors. Some lanterns may even use a bulb instead of a candle, making them additionally safe and attractive to use. There are endless finishes that you can use for your home's lanterns, including wood, rope, and even rustic metal. You'll agree that few things capture the fall spirit as well as candles and lanterns will.
7. Retro Fashion
Another one of the best home decor for November is going retro. If you want your home to feel nostalgic and look amazing, you want to get on board with this trend. You simply need to combine warm color palettes with rich and dramatic tones and you'll have a gorgeous space that feels warm and cozy. This trend can be bold and refreshing, and it also incorporates velvet to add a magical feel when touched. This makes it a true feast for the senses and you can be sure that there's a way to work it into your life. Tassels and fringes are another retro fashion that you can incorporate into items like your carpets, rugs, cushions, and even mirrors. You could place retro accents throughout your house or in a single room which you want to give this chic home decor for November.
8. Handmade Decor
Handmade is big, with more people seeking out handmade items for their homes. The main attraction is that handmade items feel rich and unique, and they are also quite likely made out of sustainably sourced materials. This may make this trend tie in with the natural finishes trend, which effortlessly gives your home an amazing feel. If you're wondering where you can use handmade decor, you can start with any room that you want. Whether you want to update your bathroom design or give your bedroom a facelift, there's a handmade item or two that would fit perfectly in that space.
When you buy handmade decor, you also know that you'll have a sure positive impact on the seller's life, since they likely rely on you and other buyers of their items to make a living. You can also have a handmade item customized to your liking. This will make it even more special for you as you can get an item that exactly matches your home and personality. You'll also be happy to know that there's no other quite like it in the world.
9. Layers
Using layers is another way in which you can take advantage of current home decor for November. Layers can either be or throw pillows, rugs, throws, and other soft furnishings around the house. Go for colors that will either complement or match the rest of the decor you have. You could also go for bold colors that will contrast with the rest of the decor and stand out in striking contrast to the rest of the house.
You should also take advantage of a good space management system in your house to keep the layers neat and presentable. This includes using, for instance, a wicker basket that's placed near your furniture for convenience and to serve as additional decor. This trend can also work outdoors as you can plant your garden in layers. Hanging and elevated planters will have a positive impact on your outdoor space, presenting a delight for the senses on all levels.
10. Dark Wood Furniture
Whether you're thinking of getting accent chairs or you want to change your furniture, keep in mind that dark wood furniture is one of the home decor for November trends that's currently all the rage. This is because it gives a space an instant improvement in the way the space looks and feels. With dark wood furniture around your home, the space in which you keep it will look chic and sophisticated. The best thing is that while it serves as decor, it will also play a very functional role in your house. This makes it one of the easiest and most efficient ways to style your home according to trends in home decor for November.
Make sure that you buy quality furniture because it's not something that you'll want to change each new season. While it may cost quite a bit to get the best quality of furniture, this is a great investment for you to make. You can dress it up or dress it down if you want to change things up a bit, leaving the main elements as they are. The good thing with dark wood is that it can match practically every texture and color that you use on it, so give it some thought this season.
Borrow from these ten ideas of home decor for November in order to give your home a chic update that you'll enjoy. Your friends and family will also notice the difference and they may even borrow a few ideas from you. Whatever you plan on doing, however, make sure to first check online to see the ideas in action. This could help you know if it's an idea that you really want to get behind or not. You don't have to spend a lot of money on an upgrade that you may want to change soon after getting it done. Start on a small scale as well, and if you like it, you can go the whole way with the upgrade that you choose.