Which Professionals Offer Essential Services for Residential Properties?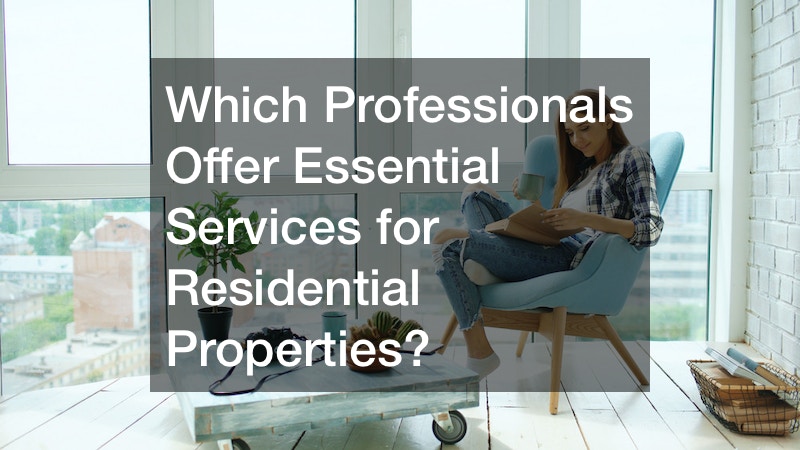 Whether you own or manage a residential property, part of the journey involves replacing or repairing some parts. Most of these tasks have to be done by a professional because they're complex. If you don't have the skills, you may end up causing more damage. So, what home professionals are you likely to need? Here is a list.
Roofers
Roofers are essential home professionals because they install, repair and maintain roofs. Without them, your roof would deteriorate and compromise the structure of your home. When in need of new roof installs, roofers will help you pick the correct type of roof based on your budget, preference, and weather conditions in your area. They make your work easier because, even if you don't know much about roofs, they can educate you so that you make an informed decision.
Another benefit of a residential roofer is that they help with roof repair and maintenance. Your roof is exposed to harsh weather conditions that take a toll on it. With time, there will likely be cracks, missing or cracked shingles, clogged gutters, and loose step flashing. A residential roofer will come to assess your roof and fix the damage or advise you whether you need to install a new roof.
Garage Door Companies
Another group of home professionals that offers essential services is garage door companies. A garage door is an essential component of your home. It protects you from intruders, enhances curb appeal, increases the value of your home, and keeps your home energy efficient. Garage doors can last between 15 and 30 years. But to get the maximum longevity, you must schedule garage door repair and maintenance when necessary.
The company will send professionals who will repair any damage and ensure your garage door works as it should. Another reason to have these professionals check your door is to prevent the risk of injuries. Faulty garage doors are risky. They can malfunction when opening and closing and hit the person closest to them. Repair and maintenance prevent the risk of injuries.
Patio Paving Companies
Most people build patios because they want a relaxing outdoor space and to boost their home's curb appeal. When building the patio, you'll have to pave it because you can't place tables and chairs on dirt and grass. This is where patio paving companies come in. They will check your patio, determine which material you'll need, and how much it will cost you.
Paving a patio is more than just laying down the materials. It also involves things like prepping the land and planning for drainage. Concrete patio paving companies are experts in matters like this. They'll know how to create a functional patio that will allow water to drain away from the property. If you want your patio to look great, work with such home professionals.
Paving Companies
You need a paving company if you want your driveway to look good. When building a home, you have to contact these home professionals to pave your driveway for the car. Paving contractors can also service or install a new driveway in a home you have stayed for a long time. Aside from installation, these companies also resurface driveways and seal cracks. Resurfacing involves installing a new layer of pavement over the old one to enhance curb appeal.
Keep in mind that resurfacing isn't always a good idea, especially if your driveway has wide cracks and large potholes. A paving contractor could advise you to install a new driveway instead of wasting money on resurfacing. The company can also seal small cracks on your driveways, giving it a glow and restoring it to its original look.
It's important to find paving contractors with experience in the type of project you want to be done. Every project has its challenges, and you want to ensure the contractors have the knowledge and skills to give you the desired results. In addition, they should fit within your budget because you don't want to bear extra costs you weren't prepared for.
Painters
Another essential service for residential property is painting. It makes your home more attractive. While most people contemplate doing the job themselves, hiring an interior painting contractor is better. Painting isn't just about applying a fresh coat of paint on the wall. There is the preparation of walls, filling up holes, and a few other things to be done. When you hire these home professionals, you're assured of quality work. They will also use quality products that suit your wall and help the paint last longer.
Nowadays, professional painting requires many tools and equipment. For instance, there are specific tasks that may require a spray machine or a vacuum-sending machine. Professional painters have the required tools depending on the type of project you have in mind. In addition, they clean up once they are done, leaving your home looking attractive.
Countertop Companies
Countertop companies are just as important when it comes to essential residential service providers. Whether you need bathroom or kitchen countertop installations, these companies can help. For starters, they'll advise you of the various countertop materials available. The list included granite, marble, concrete, quartz, tile, etc. Once you explain the mood you're trying to achieve and your budget, the countertop company will help you select the right materials.
These companies also help with the installation process. The installation process is often a one-day affair. For smaller bathrooms and kitchens, the installation can take a couple of hours. If your kitchen design requires more cutouts and angles, the project will likely take longer. Once the installation is done, these home professionals will clean up the mess they have made, leaving you with well-installed countertops and a clean bathroom or kitchen.
Water Heater Contractors
Water heaters are the unsung heroes in homes. While stored in the basement or another hidden spot, they make your life much easier by ensuring you have hot water in your home. If yours has outlived its usefulness, you must look for water heater replacement contractors to replace yours. Today there are many options, such as tankless, point-of-use, and hybrid water heaters. Water heater contractors can help you find a high-efficiency model that conserves water and electricity.
These home professionals can also help with repair and maintenance. Tankless water heaters will last about 20 years, while tank water heaters last about ten years. During this period, you have to schedule maintenance and repair so that the water heater lasts a long time. The contractors will come and ensure the tank is still functioning as it should and flush out residuals and mineral buildups to keep the heater efficient.
HVAC Companies
You will need HVAC services to enjoy a comfortable home with improved air quality. If your HVAC system has seen better days, consider getting a new one. The contractor can help you select the correct type of unit based on the needs of your home. These systems have evolved over the last few years, which means there are plenty of options to choose from. You need the guidance of an HVAC technician to select the right unit for the installation process.
These technicians help with air condition maintenance. You can't install an HVAC unit and just forget about it. You have to maintain it. Otherwise, you'll find your energy bill is hitting the roof, yet your home isn't well-heated or cooled. Maintenance involves changing the air filters regularly and cleaning the condenser and evaporator oil. Doing these two things will ensure warm and cool airflow in your home. During maintenance, the technicians also look for faulty parts in your system and repair or fix them.
A Plumbing Company
One of the most important home professionals you will need is a plumber. These people have the skills to install, replace or repair sinks, toilets, tubs, showers, faucets, and water heaters. Even if you have quality fixtures, at one point, they will wear out and need fixing or replacing. A residential plumber comes in and assesses the problem, then suggests a solution.
Plumbers also help with drain cleaning. If you have noticed your sink is draining water slowly, your drainage has a clog, or your plumbing system is inefficient. Plumbers have safe tools to unclog drainage, allowing water to drain as it should. They also provide pipe repair and replacement services. Different pipes transport water in and out of your home. Because they're hidden, most people don't think about them much until they start acting up. Plumbers have the skills and equipment to fix broken pipes, restoring efficient water flow in and out of your house.
Flooring Companies
Floors are a major part of the house. Whether you're remodeling or constructing a new home, you will need to hire flooring contractors to help you with this part. Today, you'll find different types of flooring materials, including wood, tile, vinyl, concrete, and linoleum. If you aren't sure which one to choose, the contractor can explain the pros and cons of each, helping you make an informed decision. The home professionals factor in things like the comfort and purpose of the room before suggesting the right material.
It's also important to hire a skilled contractor for the installation process. While it may look effortless in online videos, this activity requires some expertise to ensure the flooring is laid accurately and neatly. Aside from installation, flooring contractors also help with maintenance. For instance, if you have hardwood flooring, they can do the polishing and refinishing for you, leaving you with a glowing floor.
Electrical Companies
Unless you plan to go off the grid, you'll probably need the services of an electrician when building or renovating a home. Electricity can be dangerous, which is why you should let qualified people handle any task related to electricity. This includes wiring, panel installation or upgrading, surge protection, and safety inspections. Improper electrical system installation can lead to accidents. Hire a trained electrician who will know the right materials and fixtures needed to power your home correctly.
An electrician can also help upgrade your electrical system if you're moving to an old house with an outdated system. Now more than ever, households are using many appliances and devices that consume significant electricity. When your home electrical system cannot keep up with the demands of these appliances, you'll experience regular circuit breaker trips. An electrician will assess your home and upgrade your system to match modern power demands.
Insulation Companies
Most homeowners install insulation because it's a cost-effective and practical way to create a cozy environment while maintaining energy efficiency. A professional insulation contractor can help you achieve this. Even if you're a DIY master, it's best to hire home professionals for this job. They will know how to fill the insulation materials everywhere to avoid air leaks in your home. They're also efficient and can get the job done quickly.
When your home is insulated correctly, it not only saves you money but creates a uniform temperature in your home by reducing drafts. It also acts as a buffer against noise from your neighbors. The insulation contractor will suggest the right insulation material for your home based on your home climate and the part of the house you want to insulate.
Landscapers
Your outdoor space needs some love and attention. This is where you bring in a professional landscaper to transform your outdoor space. There's no amount of space or land that landscapers can't work with. Whether you want a significant project like installing a swimming pool or water fountain or you simply want a minor project like installing a patio, a skilled landscaper will help you get what you want.
One of the duties of landscapers is to help you select the right plants for your property. Unless you practice gardening and have extensive plant knowledge, you may not know the suitable plants for your home. A landscaper will know which planets will likely thrive in your area and those suited for your soil. They also know where to outsource materials needed for a landscaping project. This saves you time because they handle everything for you.
There are many types of home professionals you need for various parts of your home. Whether you're building or renovating your property, these people have the skills to handle both large and small projects, leaving you with a safe and beautiful home.