Transform the Exterior of Your Home With These Services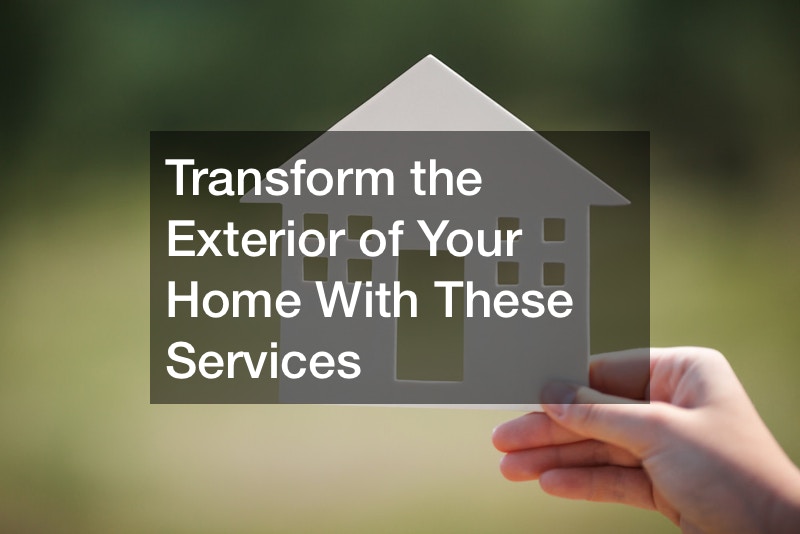 Your home's exterior is the first thing people see when they visit, so making an excellent first impression is vital. Fortunately, there are many services available that can transform this space and give it a fresh, updated appearance. From exterior and landscaping to window replacement and roof repair, there are many ways to enhance your home's curb appeal. Here are some popular services for transforming your home's exterior.
Roof Services
A home is a sanctuary; while you might focus more on its interior, the exterior also matters. The roof is a significant part of your home's exterior, so ensuring it looks its best is crucial. Roof services can assist with these, and it's easy to see how beneficial they are.
A new roof, despite the work that goes into it, can enhance your home's exterior by a far margin. A well-maintained and modern-looking roof can make a huge difference in your transformation process. It can give your home a fresh and updated look, making it stand out from others in your neighborhood.
Furthermore, a new roof can optimize your home's energy efficiency. A professional company can install roofing materials to help insulate your home and reduce energy bills. This action will save costs in the long run and make your home comfortable all year round.
Roofing services can also provide various services aside from this, such as gutter installation. These features can protect your foundation from damage, making them a prolific investment. These companies can provide exterior painting services, too, to give your home a new appearance.
If you want to transform your home's exterior, roof services should be one of the exterior remodeling companies to hire. Their experience and expertise make them a valuable asset. They can provide you with a stunning and functional roof to enhance your home's overall appearance.
Fence Services
When transforming your home's exterior, fencing services are often overlooked. Installing a fence around your property can do wonders for improving your home's curb appeal and look. Besides that, it can provide added functionality, privacy, and security.
One benefit of working with a fencing service is the aesthetic improvement they provide. With various materials and styles to choose from, you can find a fence that complements your home's architecture and design. For instance, a classic white picket fence adds a charming and welcoming touch to a cottage-style home. Alternatively, a sleek black metal fence adds a modern edge to a contemporary house.
Fencing services, however, don't stop at fence installation–they can also offer ongoing maintenance and repair services. They provide this to ensure your fence remains in top condition. From regular painting and cleaning to fixing the damage, a reliable fencing company can keep your fence functioning and looking its best for many years.
Overall, investing in fencing services is an excellent solution to transforming your outdoor space. You get to enjoy privacy, security, and functionality by upgrading your fence. With many options available, it's crucial to find exterior remodeling companies to hire to install a stunning fence on your property.
Paving Services
Utilizing paving services is an excellent way to enhance your property's appearance. Creating a paved area on your property can improve its aesthetics and provide a space for various activities. Paving services have professionals who can complete your project successfully and to the highest standards.
Creating a durable and long-lasting surface is one of the benefits of hiring a paving service. Pavements made from materials like brick, asphalt, or concrete can withstand heavy traffic and adverse weather conditions. It makes them perfect for high-traffic areas like patios, walkways, and driveways. Additionally, asphalt driveway paving can prevent erosion by providing a stable surface that water can't permeate.
Versatility is another thing you can enjoy with paving services. Paving materials come in various patterns, textures, and colors. It allows you to create a unique design that complements your home's landscaping and architecture. You can choose from traditional materials like stone or concrete or opt for newer, more eco-friendly solutions like permeable pavers.
Paving professionals are excellent exterior remodeling companies to hire to upgrade your home's exterior. It provides a durable and versatile surface that adds functionality to your outdoor space. Consider hiring such a service if you want to create a stunning place you'll enjoy for many years.
Painting Services
A fresh coat of paint makes all the difference in a home's exterior. Painting services can assist with this improvement, protecting your home from damage caused by harsh weather and other elements. They can achieve this in several ways, and it requires utmost dedication on their part.
For one, they're one of the exterior remodeling companies to hire to overhaul your home. With various shades and colors to choose from, you can pick a color that suits your style and personality. A professional painting service can also advise on color schemes that gel well together and fit the surrounding environment.
Moreover, painting services can help protect your home's exterior from adverse weather and environmental factors like rain, wind, and UV rays. Regular painting ensures your home is well-protected, reducing the chances of peeling, rot and decay. It prevents more costly repairs in the future, making it a valuable investment.
Painting services are a prolific investment if you want to transform your property's appearance. A professional paint job can enhance your home's look and protect it against environmental factors. To avoid disappointments, hire exterior house painters who deliver quality workmanship and use high-quality products.
Patio Services
Patio services should be top on your list when looking for exterior remodeling companies to hire. A well-designed and maintained patio can add significant value to your property's resale price. It also provides a stunning and functional outdoor space for family gatherings, entertainment, and relaxation.
Patio services can include everything from design and installation to repair and maintenance. A professional installer can help you select the right layout and materials for your patio. They'll base these decisions on your yard's size, budget, and personal style. They can also incorporate features, such as seating or lighting, to enhance the space's ambiance and appearance.
Whether you want a small cozy space for reading or a larger space for entertaining guests, you can tailor these needs with the help of your patio installer. You can opt for materials like brick, concrete, or stone to create a look that fits your home's architecture. Moreover, patios can be a perfect place for kids to play or for gardening if you're into that.
Patio services can turn your home's exterior by adding functionality, beauty, and value. Whether you want to create a space for entertaining guests or a relaxing oasis, you can customize a patio to fit your needs. Don't hesitate to contact a professional patio builder to begin your transformation today.
Pool Services
Pool services are fast becoming sought-after in the real estate market. Whether you want to create a backyard oasis, entertain guests, or relax by the water, a pool can enhance your home's exterior. Owning a pool, however, requires ongoing maintenance, which is where pool services come in.
One of the benefits of hiring pool services is saving time and money. A well-maintained pool is less likely to develop issues or require costly repairs. This makes it easy to enjoy your pool without worrying about unexpected expenses. Moreover, regular cleaning and inground pool repair can extend your pool equipment's lifespan, saving you expensive replacement costs.
Overall, pool services are essential exterior remodeling companies to hire for your home exterior's transformation. With regular maintenance and upkeep, you can enjoy the benefits of owning a pool. Contact a pool service today and start enjoying your backyard oasis.
Lighting Services
Lighting services are a key aspect of transforming your home's exterior. They're a valuable asset to have in your corner when planning such a project. Whether you want to highlight architectural features or create an inviting atmosphere, lighting services can help you achieve these goals and more.
One of the benefits of exterior lighting is enhancing your home's aesthetic appeal. By strategically placing lights around your property, you can draw to landscaping and unique features that set your home apart from others. If you prefer a warm glow or a modern look, a landscaping lighting service can help you execute your vision.
Improved safety and security are other things you can enjoy with exterior lighting. Illuminating areas like pathways, entryways, and driveways makes it easier for you to navigate your property. Furthermore, well-lit homes are a no-go zone for burglars and other criminals, making exterior lighting a worthwhile investment.
Lighting services are crucial exterior remodeling companies to hire for your project. By enhancing your living space's aesthetic appeal and improving safety, exterior lighting can help you get the most out of your home. If you want a straightforward and effective way to improve your home's exterior, consider investing in lighting services today.
Landscaping Services
Landscaping is essential for a property's appearance. To achieve the best out of it, it's advisable to work with landscaping services. Whether you want to create a stunning space or enhance your property's curb appeal, these professionals can help you achieve your goals.
A primary benefit of finding exterior remodeling companies to hire like these ones is getting a personalized outdoor space. A professional landscaper can work with you to design a custom plan that meets your specific needs and preferences. They can incorporate features, such as plants, water features, and walkways, to create a visually stunning and functional space.
Overall, landscaping professionals are a must-have when upgrading your home's exterior. They can offer various benefits, including enhancing outdoor space, improving curb appeal, and increasing resale prices. If you want to tackle such a project, work with a professional landscaper to design and maintain a stunning outdoor space.
Tree Removal Services
The prevalence of tree removal services is becoming rampant among homeowners. Trees are essential to any landscape but can turn into an eyesore if not well-maintained. Tree removal services are a solution to the dangers overgrown or diseased trees pose to your property and family.
Safety is an essential aspect tree services focus on. Falling branches can cause significant damage to your home, vehicles, or other property. Removing them can eliminate this potential danger and ensure your family and property are safe.
Removing trees can also enhance your outdoor's functionality. Overgrown branches or trees block sunlight, interfering with outdoor activities like barbequing or playing sports. Eliminating these obstacles ensures you and your family enjoy a functional space with no hitches.
Tree services are one of the exterior remodeling companies to hire for an exterior transformation. Their expertise can improve your space's functionality, aesthetics, and safety. You can create a stunning space you and your loved ones can enjoy without worrying about safety.
Stump Grinding Services
Stump grinding professionals are one of the exterior remodeling companies to hire to transform your outdoors. Stumps left behind after removing a tree are unsightly and occupy valuable space in your yard. They're also hazardous, especially if located in high-traffic areas.
Stump grinding involves using a machine to grind down the remaining stump until it's below ground level. This process removes the stump and the roots, causing issues with other areas of your yard. After grinding down the stump, the area is filled with soil and seeded, leaving no trace of the previous stump.
Aside from improving your property's appearance, stump grinding has functional benefits. Stumps can interfere with mowing and landscaping equipment, making yard maintenance more difficult. They can also attract pests like termites, so utilizing the services of a stump grinding company can solve this issue once and for all.
Stump grinding is crucial if you want a functional outdoor space. Stump grinding services offer various benefits, from improving landscaping to creating a usable space. If you have stumps that require removal, let professionals handle them to get your desired results.
There are many exterior remodeling companies to hire to transform your outdoor space. Focusing on this part of your home can yield exemplary results, especially regarding resale value. Following these recommendations, you can find suitable professionals to assist you with your project.