Get a Beautiful Home With These Exterior Services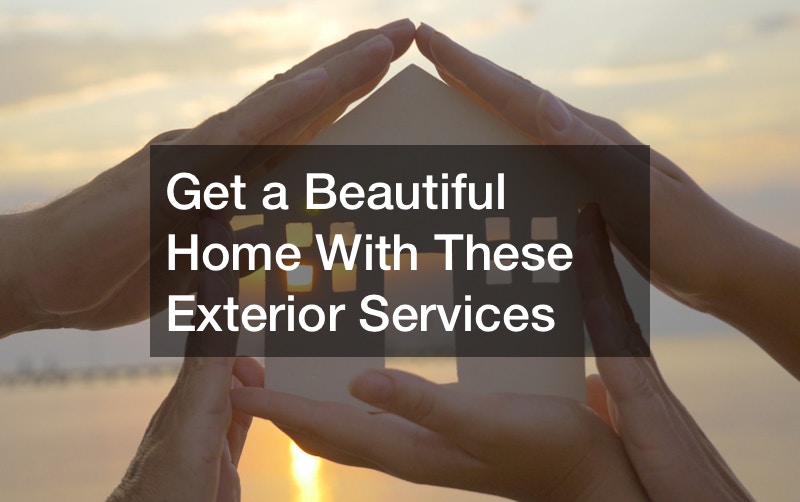 Every homeowner understands that a big part of their property's value comes from the exterior. The curb appeal affects how much your home is worth because anyone trying to find the perfect place to buy will follow their first impression. There's a point of pride in having a beautiful yard, garden, driveway, and outdoor entertainment area. Let's find out which home professionals you should hire to get the best exterior services.
1. Roofing Services
While there may be other pressing matters in your house's exterior that you'll want to address because they are more noticeable, consider roofing home professionals first. The roof is a part of your property's structure that could affect the inside. Furthermore, most people don't notice how damaged it may be until there's a leak on the interior or visible problems, like moisture on the wood. Therefore, there's a chance your roof has been in dire need of repairs.
A residential roofer won't just repair the shingles to make things look pretty. They have to check all the materials and change what needs to go before adding the final touches that will improve your house's curb appeal. You'll need a residential roof replacement or a partial repair, depending on how old your roof is and how much maintenance you've done over the years. The value of a great roofing contractor can't be overestimated because they'll clear your problems as well as prevent any on the inside of your property.
Their role is to give their clients the best consultation and planning options for the replacement or repair. An inspection will be done to determine what needs to be fixed. If you're lucky, you'll only require adding a new set of shingles or some kind of material for waterproofing. However, if they find something else that's not precisely urgent at that moment but could become a big issue in a few years, think about addressing it first. Making things pretty wouldn't make sense when shingles could be ruined due to other complications in a year or so.
2. Siding Services
Like roofing services, you must consider home professionals dedicated to maintenance, repair, or replacing siding. It's another part of your home structure meant to protect the inside. However, this one is much more visible to others than a roof because siding is placed on the house's exterior walls to ensure that strong winds, rain, and other natural elements don't reach the materials that make up your home.
You must hire siding contractors for installations and repairs. Nothing is meant to last forever, including construction materials. They may be durable, especially if made by a good company, but they will break down over time. Siding is one of the most susceptible, and you'll need to replace it when signs of damage start showing. Some of the most common siding issues are moisture ingress and insect infestation. Other problems include peeling or sagging parts, meaning you'll need to replace the entire panel.
Fixing these issues is the only way to retain your home value because siding is a notable aspect of any house. It's even worse than peeling paint sometimes. Fortunately, you can start contacting different siding contractors in your area for estimates on materials and labor. That'll help you create a budget for beautifying your home exterior. Remember, you don't have to complete all renovations immediately and go bankrupt. You can focus on these services individually while working and saving for more renovations and repairs. The idea is to pay attention to your home so that it doesn't fall into disrepair all at once.
3. Lawn Maintenance Services
Now that you've taken care of some of the exterior structure attached to the house, it's time to think about your yard. It's easy for people to believe they don't need lawn maintenance companies, especially if they've purchased their own gardening tools and lawnmowers. However, these home professionals can offer you more than you can do alone. Anyone with a machine can cut grass, but if you've always felt something is missing in your yard, consider hiring these experts.
It's time to fall in love with your home again, and sprucing up your garden is the perfect way to start. When you hire the right people, you won't have to worry about bald or burned spots on the grass. You can find a way to grow a vegetable garden without affecting the lawn or attracting animals. Professionals in lawn care can help you plan what you want for your outdoor property while maintaining the healthiest and greenest grass.
Furthermore, they can do several lawn projects to increase your home value, such as fertilization, setting an automatic watering system with a timed schedule, using the proper techniques for mowing, and controlling weeds. You can also ask them about utilizing eco-friendly and non-chemical products if that's integral to your values. They can even add outdoor lighting, trees, shrubs, and a front garden and help you with mosquito control. The latter is essential because mosquitoes will be attracted to the garden's water and moisture to reproduce. The best experts can help you prevent that.
4. Fence Services
It's time to consider the fences around your property. Many homes nationwide have no fence at the front, with a few exceptions like a low picket one. However, people tend to protect their backyard with taller structures. You need a local fence company that can provide the best materials and craftsmanship so these fences will stay intact and increase your home's curb appeal. Anything made of wood is more susceptible to the elements than metal, so it's essential to consider the kinds of materials you want to use.
However, you should also think about the vibe any fence will bring to your house. It should match your home style and give a warm feeling to potential buyers or your guests. On the other hand, you may be looking for something purely for protection purposes, which you'll need to discuss with these home professionals. They may even have partnerships or in-house security experts that can make your fencing system even better. Some people add CCTV cameras around their fences to catch anything.
Ultimately, you'll have to remember that fences are one of the first impressions of your house. A fence in disrepair will make you look like an irresponsible homeowner. A huge fence with too many security features makes people think the neighborhood isn't safe, so it could ruin your sale. There are other ways to protect your home besides a good fence, so consider all your options and consult with suitable fencing professionals before making a final choice. Afterward, you can ask them about maintenance and how to keep your fence in the best condition for far longer.
5. Tree Services
Lawn experts can help you with trees and plants in your yard, but you'll likely need specialized work. For example, many homeowners have had to hire emergency tree services after natural disasters or because they never noticed their trees were dying or had diseases. People in this country love greenery in their yards, and trees provide a perfect family environment. However, everyone needs to be responsible so no damage or injuries occur on their property.
These home professionals should be hired before an urgent matter. You need to pay attention when your trees need pruning and trimming. Aside from preventing dangerous branches from growing, this service helps maintain their beauty. Arborists can help you remove overgrown parts to avoid diseases. Furthermore, some people like their plants to have a specific shape and aspect, which is vital in many suburban neighborhoods. Everyone likes cohesion in gardens because it brings a sense of peace.
These experts also provide tree cutting and grinding. Sometimes, you just need to eliminate some plants, but removing a tree takes work, especially if it's big and old. You'll need people who can cut it down safely without compromising nearby structures, and stump grinding may be necessary if you plan to build in that spot. Some people hire tree services for planting new ones or transplanting others, a complex process that could kill a tree if it's not done correctly. Pest control is another service these companies can provide.
6. Concrete Driveway Services
The next step in beautifying your home exterior should be to check the concrete driveway. It may look alright in general terms, but minor things could decrease your home's value. Check for cracks, holes, and other issues. If you find anything that shouldn't be there, it's time to hire concrete driveway contractors. Most people will notice these details whether they're interested in buying the house or have been invited as guests.
Consider the investment you made in your home and what it means to keep it in top shape. You don't want your property to lose its worth just because you've neglected the seemingly unimportant details. Anything on the exterior can affect the curb appeal, whether that's a few cracks or stains on the concrete. Fortunately, you can quickly contact stamped concrete contractors, especially if you want to make something different.
Concrete can be used in many ways as it's one of the most cost-effective materials you can invest in, so talk to the home professionals you hire. Discuss the benefits of different repaving methods for your driveway and choose things that will look great and last a while. You can pick from different driveway designs. Many homeowners turn to concrete pavers for their driveway, an excellent way to increase your property's value. Others choose stenciling, which may be a little more expensive but worth considering. Don't just repave what you already have. Take a moment and consider how to make things aesthetically pleasing.
7. Deck and Patio Services
Once you've taken care of all the other vital aspects that you should renovate with the help of home professionals, it's time to think about extending or adding outdoor entertainment areas. Most homes in this country have decks, patios, porches, or other similar surfaces on the exterior of their properties. These spaces make your home more unique, and anyone can change them up if they desire. Deck and patio builders can easily redesign the structure to fit your needs.
Have you ever wished you had a bigger deck to add a barbecue and a dining table? Some people want to build elevated surfaces beside their pools to create a more luxurious outdoor or pool furniture area. Some of these things often seem unnecessary, but they are great investments that will make your home stand out among all the others in the neighborhood. Whether you want to sell or not, it's always better to stay ahead of what buyers may wish to do in the future.
Decks are quickly built and have several benefits you haven't considered. For example, if you have uneven ground in some parts of your yard, building a deck over it ensures the safety and comfort of your family and guests. Another advantage is that you can design any type of deck with the help of the experts you hire. Just tell them what you envision, and they'll make it happen. The best home professionals can create great decks and patios even in small properties.
8. Landscaping Services
If you don't have a proper backyard or it's overgrown and ugly, consider several landscape design companies. Some homes don't have a ready-made yard with the perfect flowers, bushes, and grass. Therefore, they need experts who can design something great depending on the homeowner's wants and needs. You want any buyer or guest to have a fantastic first impression of your home, and landscape will play a massive role.
People will generally look at the big picture first, and if there's harmony, they'll be immediately pleased. However, they'll notice the details later. You may have fixed the roof, siding, and driveway, but if you ignore other aspects of your exterior, they'll see that, too. People often focus on the faults and errors over the good things. With landscaping services, you can renovate your lawn, plants, shrubs, trees, etc. You'll also be able to add color or include new features, such as fountains, benches, and more.
Now that you understand the kinds of home professionals you must hire to have a beautiful house, it's time to pick up your computer and search for local companies. Remember not to hire the first person you talk to. Instead, ask around, compare costs, and check reviews. You can do it as long as you have the will to change your property!