Dont Forget About Hiring These Professionals When Planning a Residential Renovation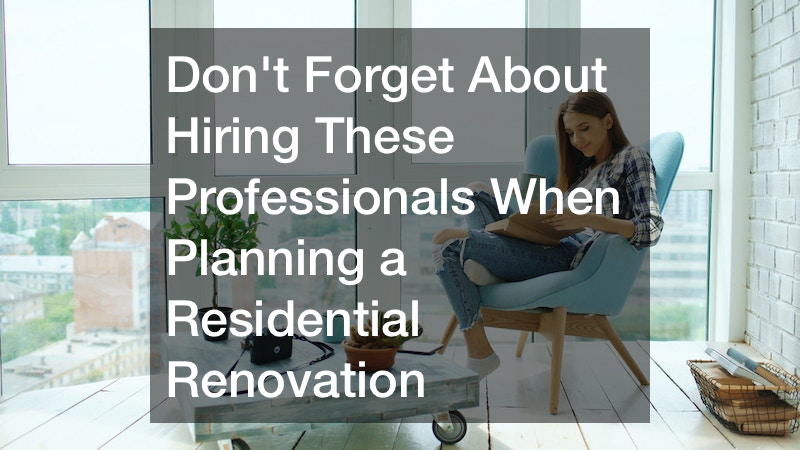 Is a home renovation long overdue? If so, now is no better time to begin the process of upgrading your home. You can improve your floors, enhance your landscape, and install a roof that can last a lifetime. As you do that, make sure that you use the right pro contractors. Here are some of the local pro contractors whose services you'll need.
Roofers
A quality roof is essential to your home structure and security. Your roof protects your home from the elements, leaks, and other problems. So if your current roof is nearing the end of its expected lifespan, or you've had several repairs, it's time to replace it. You can also proactively replace your roof. because you want to simply upgrade it to a better material. According to Bob Vila, metal or slate roofs can easily last 50 to 70 years with maintenance. The good thing about using such high-quality materials is they can be low maintenance as long as the installation is right the first time.
Another reason to upgrade your roof is for enhanced curb appeal. Your roof is one of the first things people see when they approach your home. Can you imagine having a dirty, damaged roof that's covered in moss or algae, while the rest of your property looks spotless and new? Plus, if you're currently experiencing roof leaks, you may need emergency roof repairs as soon as possible.
Never ignore a leaky roof. If your roof has water that can seep through cracks or holes, that moisture can do major damage inside your home. According to Qipa, mold only takes 24 to 72 hours to begin sprouting on a wet surface. So if water has been coming from your roof for days, weeks, or months, that's plenty of time for mold to be setting in your attic and other parts of your home, especially inside the walls.
Gutter Company
Your gutters are just as important to the structure and health of your roof as choosing the right roofing materials is. Your house gutters are responsible for ushering water away from your roof after a storm or any other type of wet weather. These amazing features also prevent that same water from pooling around your home's foundation. If water were allowed to seep down and around your foundation, it could damage your basement. You would have a weakened foundation that would be expensive to repair.
That's why gutter cleaners should be among the pro contractors you hire when planning a residential renovation. Professional gutter cleaners will get rid of any debris like leaves, tree branches, dirt, mold, or any other element clogging up those gutters. You should call these pro contractors at least once or twice a year to ensure your gutters are clean and can efficiently do their job. If your gutters are blocked, there's little room for water to flow through, and then the water will back up on the roof and into the basement.
Siding Company
A siding contractor is a must when you want to protect your home from the elements, have the right exterior color, and have an energy-efficient home. You're siding is the material that goes outside your home and can protect it from the elements such as rain, snow, hail, and UV rays. These pro contractors often work with vinyl, brick, stone, wood, and metal. '
The type of siding you choose can play a big role in how much money you'll spend upfront, how long it'll last, and how well it'll protect your home from the impact of high winds and other elements. The type of style you want also should go into your decision. After all, many people love living in a brick home, but it's more expensive to use than vinyl. Of course, brick is also more durable along with stone, but vinyl is also easier to replace if it were to come off.
Also remember some siding is easier to change color than others. Do you plan to change the color of your home's exterior paint soon? If hiring an exterior paint contractor is in the works, vinyl and wood are easier to paint than harder materials like stone..
Paving Company
When you and other people walk up to your doorstep, you should have a smooth, beautiful pavement to strut on. Your pavement also affects the cars that drive up your driveway. Remember, your car isn't just in danger when it's on the road. If you're driving your car on a driveway path that's bumpy and has cracks, holes, and potholes, your tires are just as susceptible to damage as they would be in any other area. That's why an asphalt driveway contractor should be among the pro contractors on your list of residential planning.
Asphalt is a versatile material that's good for the environment since it's so recyclable. So you can have peace knowing that if it's time to update your asphalt pavement again in the future, it won't be sitting in a landfill somewhere, it'll simply be recycled. Its dark color comes in handy if your home is in a cold area. When you pave your driveway over in asphalt, it's easier for snow and ice to melt since the dark color absorbs heat from the sun.
Landscapers
There's nothing like a beautiful landscape covered in green grass, trees, and flowers. Having a beautiful array of nature on your property can bring peace and tranquility to your home. Add local landscaping services to your list of pro contractors so you no longer have to worry about cutting the grass or watering it properly. Your professional landscaper can cut your grass on your schedule. They can help you set up an automatic irrigation system so you have the right amount of hydration without lifting a finger.
You can also rely on landscaping services for proper fertilization. The right fertilizer goes a long way in keeping your grass green and preventing the growth of weeds. When weeds sprout on your landscape, they suck all the nutrients out of the soil, which can turn your grass yellow or brown and kill any other plants in the area. instead of picking weeds out by hand, use professionals who can stop them from coming to begin with.
Tree Company
Your landscape isn't just grass and flowers. Trees add to the exterior beauty and property value. The right tree services not only make your home exterior look beautiful but can even attract friendly nature. Many species of trees and shrubs are known for attracting friendly creatures such as squirrels, birds, ladybugs, and butterflies. So if you don't have any trees on your property, a local arborist can plant some in some strategic locations. Depending on your climate, you can have fruit trees such as apples, pears, lemons, oranges, figs, and various nuts.
On the other hand, there are times when you may need to call a local tree removal service. Trees bring so many advantages, such as cleaner air and the ability to grow your own fruit. Sometimes they can also pose a danger to your property. So if you're planning a residential renovation, you may need to remove trees that have been diseased or damaged from storms. You can call on these pro contractors to remove any deadwood that attracts vermin. If a weakened tree is too close to your home, it can easily fall over and damage it as well as hurt anyone inside.
Floor Company
There's nothing like a home that has beautiful, comfortable flooring. Do you dream of having stunning hardwood? Why not, since hardwood is often associated with elegance, and luxury, and is extremely popular with other homeowners? If you properly maintain your hardwood flooring, it can last for as long as 100 years. Even if hardwood isn't in your budget, you can also invest in engineered wood floors which are just as beautiful and can mimic the appearance of solid wood.
If you're a fan of carpeting, but your existing carpet has become worn down and is giving you allergy issues, it may be time to get rid of it. You can call your local flooring contractors to replace your carpeting with a better carpet material or consider more solid flooring. If you opt for solid floors, you can always make them more cozy and add softness with the right rugs.
You can further enhance your home when you call pro contractors who specialize in epoxy floor sealing. The sealant is a material that can go over any solid surface and can protect it for years to come. It's an invisible layer that you could put over cement, hardwood, stone, and vinyl so you have a safe non-slip surface that's easy to clean. Use this type of floor coating in any room in your home, including your garage, so you can protect its cement surface from tire damage, car fluids, dirt, and more.
Fence Company
As a homeowner, you always want to protect your home. What better way to do so than would a privacy fence contractor? With a privacy fence, you and your family can maintain your private activities away from the prying eyes of nosy neighbors or strangers passing by. A privacy fence can also help reduce noise pollution so it's easy for you all to get the regular sleep and relaxation you should at home. After all, according to the Sleep Foundation, adults should get seven to nine hours of restful sleep at night. Without restful sleep, you and your family are susceptible to other health issues like fatigue, inflammation, anxiety, depression, and weight issues.
Do you have little children or pets? Of course, the little ones will want to play outside, and you want them to stay protected within the boundaries of your property. Make it easier to prevent them from going out into the street or over to a neighbor's property by having a fenced enclosure. That way, you can rest assured they're getting the playtime and exercise they need without being in danger of getting into an area that they shouldn't be in.
Plumbers
Solid plumbing is a must for any functional home. Your plumbing system ushers water too, and from the house. You need water to drink, bathe, and clean your house. If you suspect any issues with the safety of the plumbing in your home, it's time to invest in plumbing maintenance as soon as possible. These pro contractors will check your pipes for cracks that can lead to leaks. If there are any corrosion issues, they can replace the pipes that are causing that issue. They can also check your water heater to make sure it's still functioning and can last till its lifespan.
Electricians
Electricity makes everyone's lives easier. Electrical installations ensure that people don't have to sit in the dark. These days, households have several devices Such as smart TVs, phones, laptops, Playstations, and other appliances that need electricity to keep them running. Luckily, these pro contractors can ensure your wiring isn't frayed and is in safety compliance.
Plus, if your wiring is outdated, they can update your home grid so that things don't short-circuit or cause your appliances to blow. In other words, you can end up having a very expensive problem on your hands if you have to replace your devices and appliances because a socket fried your device. If you moved into an older home that never had its wiring checked, don't hesitate to get that done during your home renovation.
As you can see, there are several pro contractors you can utilize to update your home. The more work you put into your renovated home, the longer it will last. You can increase the value and aesthetic quality of your home with these services. Whether you need to update your electricity and plumbing or improve the curb appeal of your landscape and pavement, these contractors can help you. So get started on renovating your home to its highest level by getting these contractors on deck today.