Professional Services You Should Hire Before Summer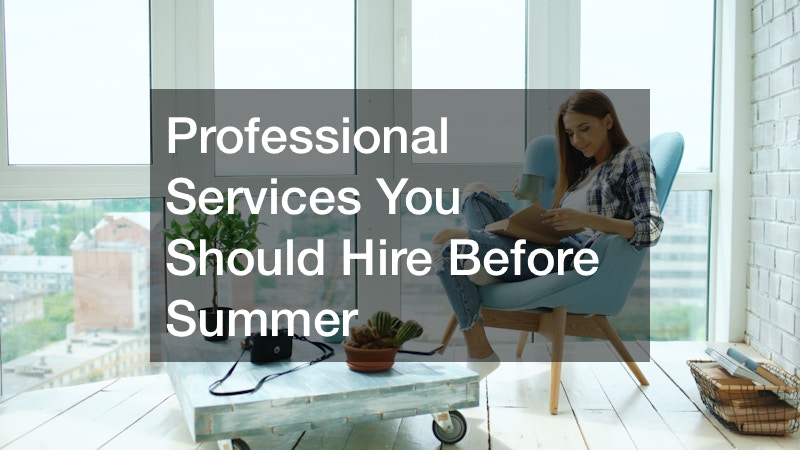 Life is already overwhelming between work, kids, extracurricular activities, and whatever else is happening. The last thing you have time for is home improvements and home maintenance. Typically, the demand for these things to be done only increases in summer. That's when you want to enjoy the weather, vacation, and do what you love. Instead of wasting all your time and energy on a list of tasks to complete around the house, consider the residential services to hire out for. There are plenty of businesses out there that will handle a lot of these jobs at a reasonable price. In addition to saving your spare time for more important things, you'll have a job done by an expert. Ultimately, it will look nicer and last longer than a typical DIY finish. Find out some of the top projects you should start searching for someone else to handle for you on this list, and pick up the phone and get your appointments made now.
Sprinkler Company
Summer is getting close fast, and it's time to get your lawn and garden in tip-top shape. But have you considered the importance of having a functioning sprinkler system? A properly working sprinkler system not only keeps your property healthy but also adds to the overall appearance of your lawn. So don't wait until summer is in full swing to find out your sprinkler system isn't working. Instead, hire a sprinkler system repair company now. You'll avoid the headache of a dry, brown yard in the middle of summer.
Wouldn't you love to have lush green grass to show off to your neighbors and friends? In addition, you can keep your lawn hydrated and healthy with a sprinkler system in optimum and efficient condition. And, if you're looking to sell your property, a well-manicured yard is a big selling point.
Don't just hire any company. Do your research and find a reputable one with years of experience. A professional sprinkler repair company will be able to assess the issue and provide you with a solution quickly. They'll also give you peace of mind knowing that your system is in good hands and will work all season adequately.
Pool Building Company
You love the idea of lounging by the pool during the hot summer, don't you? There's nothing like taking a dip in cool water to beat the heat. But have you considered the effort it takes to build a pool? Sure, it sounds like a fun project, but it's also a significant investment in time, money, and resources. That's why it's wise to add this to your list of residential services to hire before summer arrives.
A professional pool builder knows how to design, build, and install a pool that fits your needs and budget. They'll consider factors like the size of your backyard, the type of pool you have envisioned, and local building codes. The contractor handles all the necessary permits and ensures the construction process runs smoothly.
Moreover, reputable pool builders will use top-quality materials and workmanship that will last. They'll also offer warranties and ongoing maintenance services to keep your pool looking and functioning at its best. And the best part is you won't have to lift a finger during the construction process! Just imagine, by the time summer arrives, you'll be relaxing by the pool, soaking up the sun and enjoying all the benefits of owning a pool without the hassle of building it yourself.
Pool Cleaning Company
Now that you have your pool built, there are other residential services to hire that you need to put on your list. Of course, you're getting excited about all the fun you'll have with family and friends in your new pool. But before diving in, have you considered the maintenance required to keep it clean and healthy? Hiring a pool cleaning company is an investment that'll pay off in the long run and make your summer even better.
Imagine having crystal clear water free of bacteria and debris, ready to swim in anytime. A professional cleaning company will handle all the challenging work, including vacuuming, skimming, and checking the chemical levels. They'll ensure your pool is in good shape so that you can enjoy it without any worries. Plus, keeping your pool clean is crucial for your health and safety. A dirty pool leads to skin irritations, eye infections, and even more serious conditions. With a pool cleaning company, you can kick back and soak up the sun, knowing your pool is in good hands.
Before summer arrives and these experts book up, make the smart choice and check out some pool cleaning companies. Get your name on their routine maintenance list, and you'll never have to worry about getting them over to take care of the job.
HVAC Company
You don't want to be stuck in a hot, stuffy home this summer. That's why one of the residential services to hire must be an HVAC company. These technicians will ensure that your air conditioning system is in top condition and ready to keep you cool and comfortable throughout the season.
You might think that your air conditioner is working fine and doesn't need any attention. However, did you know that regular maintenance can extend the life of your AC, improve its efficiency, and lower your energy bills? An HVAC technician will inspect your system, clean the filters, and make any necessary repairs to keep it running smoothly.
Imagine being in the middle of a heatwave, and your AC decides to break down. That's the last thing you want to deal with. In addition, do you really want to deal with the cost of an AC replacement when you could spend that money on fun summer activities? By hiring an HVAC crew, you can avoid the hassle and stress. Your heating and cooling tech will identify and fix potential problems before they become emergencies.
Also, having a well-maintained air conditioning system makes your home more comfortable when temperatures rise and improves air quality. Dust, allergens, and other pollutants can accumulate in your AC and circulate throughout your home. An HVAC company will clean and sanitize the system to improve indoor air quality and keep your family healthy.
Siding Company
Another residential service to hire to ensure your home is in tip-top shape is a siding company. Siding contractors have expertise and experience and can ensure that your siding is ready to face the elements and keep you safe and comfortable no matter what weather conditions come your way. You don't want to worry about leaks and drafts during the hot months. A siding crew will check for potential problem areas and ensure they're fixed before they become bigger issues. And if you need to replace your siding, they can help you choose the suitable material and install it properly.
Plus, when hiring a reputable siding company, you won't have to worry about doing the job yourself and ending up with less-than-desirable results. The pros have the skills and equipment to get the job done quickly and effectively, so you can get back to enjoying your summer. With their attention to detail, you can be sure your home's value and curb appeal will increase, and your property will look great for years.
Roofing Company
As you think about all the fun outdoor activities you have planned this summer, have you thought about the state of your roof? It's one of those residential services to hire that must be added to your call list. Your roof is the first defense against the hot sun and unpredictable storms. Hiring a roof repair company now is a smart move to ensure that your roof is ready to withstand the sometimes harsh elements.
You don't want to be caught in the middle of a summer storm with a leaky roof. It will be a hassle to clean up and lead to structural damage and mold growth, which can be expensive to fix. Another reason to call for these residential services to hire now is that roofing companies often have more flexible schedules during the spring, making accommodating you easier. They can inspect, identify any problems, and immediately make repairs or upgrades, so you don't have to worry about later interruptions to your exciting outdoor plans.
Tree Company
Barbecues, outdoor activities, and soaking up the sun are on your mind. But have you thought about the trees in your yard? They can become a liability if not taken care of. Consider a tree removal business as one of your residential services to hire before summer.
With all the activities and events that come with summer, you don't want to be stuck dealing with a fallen tree or broken branches. Not only is it dangerous, but it's a hassle. By hiring a tree company now, you can have peace of mind knowing that your trees are healthy and safe. In addition, they can check for potential hazards, perform tree pruning services, and ensure that your yard is ready for all your upcoming plans!
A well-maintained yard can add value to your property and increase curb appeal. A tree company can prune and shape your trees to enhance their natural beauty and make sure they're growing in the right direction. If you have any trees that need to be removed, a tree company can also handle that for you.
Stump Grinding Company
You're a proud homeowner and have big plans for your yard this summer. But wait! Before solidifying those plans, have you considered the impact of that unsightly tree stump in your yard? It detracts from your yard's aesthetic and can also be a trip hazard for you, your family, and your guests. That's why hiring a stump grinding company before summer is a must!
What's included with the stump removal cost? Well, stump grinding involves removing tree stumps to ground level using a specialized machine. It's an effective and efficient way of removing stumps without leaving a large hole in the ground. You'll be amazed at the transformation of your yard once the stump is gone! You may not have thought it would make much of a difference, but you'll have more space, and you won't have to worry about anyone
getting hurt tripping over the eyesore anymore.
Another advantage of hiring a stump grinding company early in the season, or before summer, is that the ground will have time to settle and regrow new grass. It will help prevent sinkholes from forming, and you'll have a lush, level lawn in no time. Plus, with summer comes warmer weather, and you won't have to worry about mud and dirt being tracked into your home.
Finally, adding this residential services to hire option to your list guarantees the job will be done right. You can trust that the team will have the proper equipment, expertise, and safety measures to handle the job safely and effectively.
Hardscaping Company
Before summer, residential services to hire you should call to upgrade your outdoor living space is a hardscape patio company. After all, who wouldn't want to enjoy their backyard in the warm sun, surrounded by the beauty of nature? However, transforming your yard into a paradise can be overwhelming, especially if you're starting from scratch. That's why you need a professional.
A hardscaping contractor helps you create a beautiful and functional outdoor living area where you'll love spending time. They'll work with you to design and install walkways, patios, retaining walls, and other features that enhance your yard's aesthetic appeal and functionality. Not only will this increase the value of your home, but it will also provide you with a space to relax and entertain friends and family.
A hardscaping company also has the expertise and experience to handle all the little details that go into a successful project. For example, they will ensure that the materials used are durable and long-lasting and that the design complements your home's architecture. Plus, they will take care of all the heavy lifting.
This list is a good start of choices for residential services to hire before summer arrives. First, take a look at what you need and your budget. Then, you can prioritize the most important projects that must be handled immediately. Some you may be able to hold off on, but the more you can accomplish now, the better summer you'll have!