How to Improve Home Value Before Selling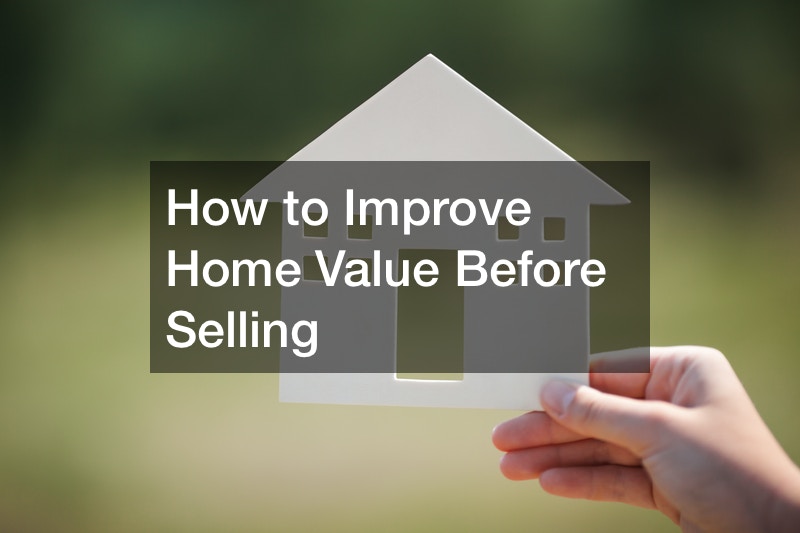 Your home is a valuable asset, and if you're planning to sell your home, there's a lot you can do to get the most out of that investment. There are many upgrades that can help to boost the value of your home, so you can capitalize on a higher resale value. The key is knowing which types of improvements can provide you with a higher resale value. To help you out, we have put together nine top suggestions you should consider to improve your home value before selling.
Do Some Light Renovation
You don't have to build your dream home just before selling, but some light renovation can help put more money in your pocket after selling your home. To get more bang for your buck, you should renovate the areas of your home where homebuyers are more likely to focus. It's common knowledge that homeowners are mainly concerned about the state of the kitchen, which is the heart of the home, and the bathroom. Therefore, it makes sense to invest in smaller kitchen remodeling projects such as painting the walls and cupboards, adding a kitchen island, and installing new appliances.
Smaller kitchen remodeling projects can quickly transform your kitchen and create the right impression with buyers. Similarly, freshening up bathrooms can score you more dollars on your asking price. In this regard, some light renovation work you can do includes re-grouting, replacing taps, or adding more storage space. What's more, you can apply many tips and tricks to keep costs low. For instance, if you're thinking of upgrading the glass on your shower stall, you can purchase material from a wholesale shower glass distributer that's likely to be cheaper. This ensures that ROI on your investments will be higher.
Update Home Gym Spaces
Home gyms are a popular addition to any home. If you already have a home gym space, there's more you can always do to make the space more inviting to the home's next owners. To get inspiration, start by looking into popular trends. For instance, most people are into yoga, aerobics, and weight training. In that case, you can compartmentalize your home gym space to reflect the relaxing and meditative atmosphere that's conducive to yoga. You can use warm and calming colors for this particular zone to help improve the quality of future workouts.
In the same vein, you can make sure the weight training and aerobics zone have the right theme. Typically, this theme should be a bit more bare-bones with few distractions. Make sure the space can fit the basic home gym equipment, such as a treadmill, elliptical, stairclimber, workbenches, and weight machines. You can also add custom storage cabinets, so there's room to pack everything away, making it easier to maintain a cleaner and tidy place. In addition, a few finishing touches, like artwork, can do wonders for the space. As you can see, it doesn't cost much to update your home gym space and transform it into a place that prospective home buyers envision working out in.
Install New Water Filtration
Most people are worried about the quality of water they drink. Regardless of whether your water comes from the city or an underground well, you can improve the quality of water by installing a new water filtration system. When homebuyers are looking at different homes and considering which one to buy, a home with a water filtration system is something that will stand out. You can even point out the benefits of such a system. For instance, if you live in an area with hard water, a filtration system means you have water softeners that remove mineral deposits. If the water has too many mineral deposits, the taste of the water can be altered. In addition, it can result in limescale build-up in appliances and the water heater.
By installing a new water filtration system, you're making sure the next homeowners have safe drinking water all the time. They will certainly appreciate knowing that there will always be clean water in case of system failure. In the long run, a water filtration system can even save money since there may be no need to continually purchase bottled water or pay for frequent plumbing repairs. Overall, a water filtration system can help tip the scales in your favor when buyers need to decide between your home and another.
Repair Water Damage
The common signs of water damage include ugly water stains on your walls and ceiling. Water damage can also lead to rotting wood and the growth of mold. Fortunately, professional water damage repair can help improve matters. The process typically involves water cleanup and moisture removal, all of which can be done in a relatively short time. If mold remediation is required, this should also be done to ensure that your home is safe to inhabit. If you have experienced any water damage in your home, fast water damage repairs can prevent mold from growing. Either way, repairing water damage is a necessary undertaking as it can be challenging to get the best price for your home if there are obvious signs of water damage.
Replace Old Lighting Fixtures
Perhaps you already know that something as simple as lighting can make or break the atmosphere of a room. So if you're looking for ways to upgrade the interior of your home without making a major investment, consider replacing old lighting fixtures. Start with key rooms such as the kitchen, bedrooms, and living room where people tend to spend a lot of time. You should also check the lights in other rooms and bring in an electrician for light repairs and replacements where necessary. You can bet that when homeowners are strolling through your home, they won't hesitate to test the lights to see if they are working.
If the lights are not working and the fixtures appear broken, this can be a cause for concern. After all, no new homeowner wants to move into a home and immediately starts worrying about the cost of upgrading the fixtures. When renovating your home, it's easy to overlook lighting and focus on other seemingly important things, but if your lights are in an obvious state of disrepair, then this home improvement should be on your list. You'll be surprised at how new light fixtures can improve the overall appearance of your home while reducing the risk associated with faulty light fixtures.
Remove Construction and Yard Waste
If you have decided to go all out and invest in a major renovation, such as a complete overhaul of the kitchen or bathroom, these remodeling projects can offer a high ROI. But if the project has generated a lot of construction waste, don't leave it lying around as it can lower your ROI. Instead, you should hire a waste disposal service to make sure your yard is as clean as possible. Usually, if you have hired a contractor, they will take care of the cleanup and attempt to leave your yard in good condition, but this doesn't always happen. Sometimes, the contractor will clean up in a hurry and leave having completed their work. In that case, it's up to you to ensure that the construction waste is disposed of properly. But you can't always get rid of the waste on your own.
When you hire a professional waste disposal service, they will help you get rid of all the construction and yard waste that you can't just throw in the yard. This is just one of the many ways to improve your home's curb appeal. An untidy yard with waste strewn around can be a distraction that stops home buyers from noticing the finer qualities of your home.
Make Necessary Plumbing Repairs
When renovating your home in a bid to increase its resale value, don't forget to also upgrade your plumbing. This is also another area that home buyers will want to know more about after an inspection. You don't have to overhaul your entire plumbing system, but you can focus on the upgrades that will offer the most ROI. These upgrades include getting all clogs checked out, fixing leaks, replacing taps, and upgrading the drains. It's essential that all plumbing systems function properly because plumbing problems are very difficult to hide during an inspection. Similarly, you should hire a septic tank service if you have a septic tank on the property that needs attention.
A septic tank service will inspect your septic system and recommend changes that need to be made before selling. If there are issues with your septic system, they will be uncovered during the inspection, and this can be a turnoff for buyers. On the other hand, a septic system that's in excellent condition can be a great selling point for buyers. One of the main things that will determine if your septic tank needs service is when it was last pumped. Septic tanks need to be pumped once every three years to make sure they are safe and fully functional.
Get Your Gardening in Order
Most homeowners make the mistake of only focusing on the interior when making improvements to impress home buyers. But the outdoors is just as important. If you have a garden that you have not been paying attention to lately, you can get it in order to ensure that it doesn't affect the overall appearance of your home. A beautiful and well-maintained garden is sure to catch the eye of any buyer and will improve the value of your home together with other improvements. It can be a point of interest for many prospective buyers, especially those with green fingers or who like to spend some time outdoors.
Even people that are not interested in gardening and prefer to hire a gardener will not mind acquiring a property that already has a well-developed garden. Such a type of garden will make the entire property more appealing and provide many tranquil and beautiful views. Generally, if you want to improve the outlook of your garden, start by getting rid of weeds and make sure all the plants are well watered. Invest in a flexible metal hose that's durable and easy to water with. Make sure you pay attention to your garden well before listing it on the market. This gives your garden plenty of time to look its best.
Repair Broken Curbs
When you're planning to sell your home down the line, you want the exterior to look its best. Curb appeal is a popular term that has been used to describe the attractiveness of your home. But for starters, it's impossible to have curb appeal when you have broken curbs right by your doorstep. Typically, extruded curbs are there to act as barriers between different landscaping areas, and if they are broken, this will be noticeable and take away from your home's curb appeal. To make sure all the details are on point, inspect all your extruded curbs and have all the broken ones repaired. Fortunately, installing or repairing extruded curbs isn't expensive.
The essential thing is to find a local contractor or company with a good reputation that offers these services. Once all your curbs are in good condition, prospective buyers may not pay particular attention to them, but they will certainly notice if the curbs are broken. The good thing about making sure all your curbs are repaired is that it creates the impression that the home is well-maintained, while broken curbs create the opposite impression. As mentioned, the improvement may not stand out as much but helps create a cohesive, well-maintained look.
These are some of the ways to help improve the value of your home. They are effective because they easily turn your home into a place where buyers like to live. Most home buyers are not looking for any ridiculously expensive home improvements, such as a jacuzzi. Because buying a home is one of the largest investments to make, it makes sense that most buyers need time to recover financially after purchasing a home. The last thing the typical home buyer wants is to start shelling out more money on home improvements. So when you invite home buyers into your home, they will certainly notice if you have made an effort to keep everything well-maintained and in good condition. It's a win-win because your efforts are likely to pay off, enabling you to get more value from your home.